Texas Instruments (TI) has unveiled a capacitance-based proximity-sensing integrated circuit (IC) family that the chip maker claims offers high immunity to electromagnetic interference from sources such as radios, power supplies, lights and motors. With 36 dB of noise immunity, TI says the FDC2214 family offers 60 times better performance in the presence of noise than existing capacitive-sensing solutions, enabling low-cost capacitive-based human body and object sensing in any environment.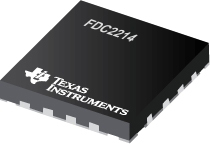 Texas Instruments FDC2214 Family
The FDC2214 family's insensitivity to ambient light allows it to detect the presence of black and dark objects that present problems for optical proximity sensors.
The ICs allow designers to detect the wave of a hand to activate a soap dispenser, change a car radio station for safer driving, or improve the safety of automatic doors or gates by sensing nearby objects or humans. They can also reduce display power consumption in appliances, consumer electronics, automotive displays and thermostats by illuminating the display only in a user's presence.
The sensor can be any conductor, such as a copper patch on the printed circuit board (PCB), conductive ink, or a piece of metal. The capacitive sensing functionality works through any non-conductive material, so designers can avoid drilling holes in end equipment, improving aesthetics and lowering production costs. Its high signal-to-noise ratio enables designers use smaller capacitive sensors and extend their proximity sensing range.
The chip family consists of the FDC2214, with four input channels, 28-bit resolution, supplied in a QFN-16 package and priced—in 1,000-unit quantities—at $4.75 each; the 2-channel, 28-bit FDC2212 in a WSON-12 package, $3.25; the 4-channel, 12-bit FDC2114, in QFN-16 package, $3.50; and the 2-channel, 12-bit FDC2112 in WSON-12 package, $2.38. Each of the four devices measures 4 mm by 4 mm and is configured via its I2C interface.
Helping to speed integration and reduce time-to-market, TI offers a reference design, a pair of evaluation modules (FDC2214EVM and FDC2114EVM), and the TI E2E Community Capacitive Sensing forum.