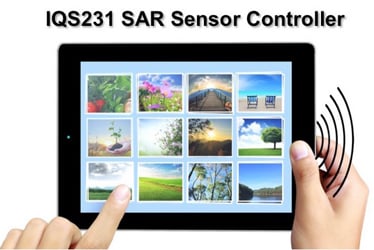 The IQS231 meets latest FCC Specific Absorption Rate (SAR) specificationsThe IQS231 single channel capacitive proximity/touch controller for specific absorption rate (SAR) applications meets the latest FCC SAR specifications and simplifies qualification testing.

The controller offers one self-capacitance or one mutual-capacitance channel in a small SOT23-6 package, which provide a human detection mode that senses minute movements when a user holds a device. This allows the device to distinguish between a user holding the device, or when it is placed on a metal table. Its fail-safe mode provides a heartbeat for safety critical applications.

The device also operate in standalone or I2C modes. It offers a mode that can be configured in I2C mode, and then switched to standalone mode to reduce the noise generated by I2C communications. It can also detect if it is held during power on and a quick release due to human interaction. In fast response mode, the IQS231 only draws 80uA, and in low power mode only 5 uA while sensing, making it ideal for battery applications.

In addition to optimization for SAR applications, the device features minimal external components, hand-held power on detection, synchronization with RF transmit/receive, low power modes: 100Hz, 30Hz, 8Hz, 4Hz sample rates and a 1.75V to 3.6V supply voltage.
Applications include use as a SAR sensor, in hybrid antennas and movement sensing applications, hold detection for screen activation and on-ear detection. The IQS231 is priced at $0.24 in quantities of 1K.
Related Links: