The China Telecommunication Technology Labs (CTTL) Terminal labs at the China Academy of Information and Communications Technology (CAICT) successfully conducted specific absorption rate and hearing aid compatibility testing for 5G new radio (NR) mobile devices. The lab upgraded their DASY8 high-precision electromagnetic near-field scanning platform from SPEAG, a provider of dosimetric test systems, with the R&S CMX500 OBT 5G one-box signaling tester from Rohde & Schwarz. SPEAG and Rohde & Schwarz have been long-term partners with CAICT and have supported and equipped CTTL with testing solutions.
To guarantee that electromagnetic (EM) radiation from smartphones and other wireless devices meets safety guidelines, making sure human exposure to EM fields is in line with international standards and government regulations is mandatory in most countries. The specific absorption rate (SAR) and power density (PD) are the main compliance parameters. The SAR measures the radio frequency power absorbed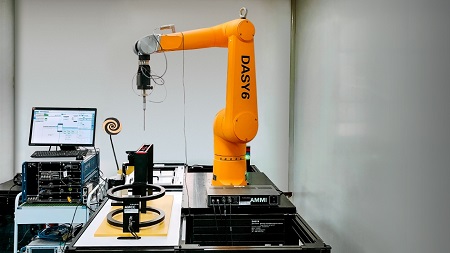 Source: Rohde & Schwarz by the human body. It is evaluated in the frequency range from 100 kHz to 10 GHz, while the PD or power incident in the human body is evaluated above 10 GHz.
The U.S. Federal Communications Commission also requires hearing aid compatibility (HAC) testing for mobile phones. The IEEE/ANSI-C63.19-2019 standard requires testing procedures that use diverse voice calls from traditional circuit switched voice calls with 2G/3G to current IP multimedia subsystem (IMS) based voice calls and over-the-top voice services.
To perform mandatory SAR and HAC tests on 5G (NR) terminal devices, the CAICT researchers selected the R&S CMX500 OBT wireless communication tester to complement their DASY8 dosimetric and near-field evaluation system from SPEAG. For SAR tests, the R&S CMX500 establishes a signaling connection with the mobile device and emulates 5G NR audio and data connections for relevant test scenarios in line with various international standards. In HAC testing, the integrated IMS server in the R&S CMX500 and R&S CMX-ZG180A audio accessories for analog audio input/output allow for very intuitive voice quality testing of 4G voice over long term evolution (VoLTE) and 5G voice over new radio (VoNR) calls.
DASY8: Dosimetric Assessment System for electromagnetic near-field scanning
DASY8 is the latest generation in the gold standard for dosimetric and near-field evaluation systems. It fully complies with all national and international guidelines, standards and regulations. It is also the most versatile system for a wide range of R&D tasks for measuring EM exposure from 3 kHz to 110 GHz.
cSAR3D is the most advanced vector array system for fast and accurate SAR measurements of wireless devices. To increase measurement speed, cSAR3D uses state-of-the-art fast data acquisition as well as advanced and highly accelerated 3D field reconstruction algorithms and complies with the latest draft of IEC 62209-3 and the fast SAR protocols defined in IEC 62209-2 and IEEE 62209-1528.
DASY8-3D combines the best of both worlds by fully integrating the cSAR3D system with the available DASY8 modules for a combined system that seamlessly transitions from automated SAR pre-screening with cSAR3D to full evaluations with the gold standard DASY8. This modular and versatile testing system is ideal for R&D, market surveillance and high-throughput testing.
Future-proof one-box solution for 5G NR testing
The R&S CMX500 radio communication tester from Rohde & Schwarz has a simple and flexible test concept. The one-box tester supports 5G NR in frequency ranges FR1 and FR2 along with the LTE range and includes a wide range of frequency band combinations. The R&S CMX500 offers different test functions, from basic radio frequency tests and end-to-end application tests (such as VoNR, maximum throughput) to protocol conformance testing and more. The flexible R&S CMX500 hardware and software configurations allow different test requirements to be combined in a single customized testing platform.