Breakthrough technology solves the dendrite problem in lithium-metal batteries, opening the possibility to build batteries with three times the capacity of lithium-ion batteries.
Rice University scientists fashioned the battery anode with a hybrid material composed of graphene and carbon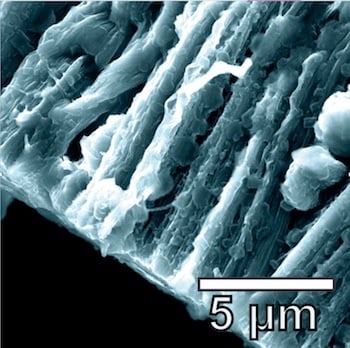 Lithium metal coats the hybrid graphene and carbon nanotube anode in a battery created at Rice University. Credit: Tour Group/Rice University nanotubes. This material, created at Rice in 2012, provides a three-dimensional surface for lithium metal.
Dendrites are tendrils of lithium that form in a battery anode. They grow into the electrolyte and can cause the battery to fail — even to explode — if the growth bridges the anode and cathode.
The research team discovered that charging the battery with the graphene-carbon nanotube anode caused the lithium metal to coat the anode evenly. James Tour, the project's team leader, explained that the anode's "nanotube forest" provides enough surface area for the lithium metal to move around easily as the battery charges and discharges. This spreads out the electric charge and suppresses dendrite formation. In tests simulating two years' average cell phone use, the new battery showed no signs of dendrite growth.
"Lithium-ion batteries have changed the world, no doubt," Tour said, "but they're about as good as they're going to get. Your cellphone's battery won't last any longer until new technology comes along." The new battery's anode allows a lithium storage capacity of 3,351 milliamp hours per gram, which is close to the theoretical maximum. This is also 10 times the capacity of lithium-ion batteries.
The Rice team has a pilot project to produce the batteries.