A team of researchers at Rice University, headed by chemist James Tour, has created a new type of flexible, thin-film material capable of energy storage, similar to typical batteries. The inorganic material is made of nanoporous nickel fluoride, and when assembled between two electrodes it performs as a battery-like supercapacitor with a maximum capacitance of 66 mF/cm2, energy density of 384 Wh/kg, and power density of 112 kW/kg.
The capacitor fabricated at Rice University is about a hundredth of an inch thick, but it can be easily scaled up for use in devices, said Yang Yang, a co-researcher at the Rice lab. The capacitor was tested and operators found that it can hold 76% of its charge over 10,000 charge-discharge cycles and 1,000 bending cycles.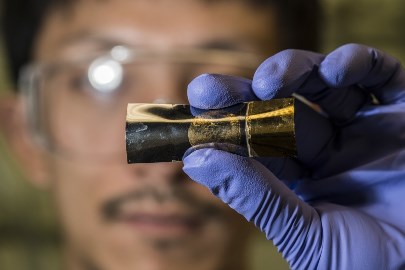 Rice University Postdoctoral Researcher Yang Yang holds an energy storage unit with the best qualities of batteries and supercapacitors in a scalable, flexible package. (Credit: Jeff Fitlow, Rice University)
"Compared with a lithium-ion battery, the structure is quite simple and safe," Yang said. "It behaves like a battery but the structure is that of a supercapacitor. If we use it as a supercapacitor, we can charge quickly at a high current rate and discharge it in a very short time. But for other applications, we find we can set it up to charge more slowly and to discharge slowly like a battery."
The work of the Rice researchers appears in the Journal of the American Chemical Society, published on April 15, 2014.