New York-based green energy power company Greenlight Energy has introduced three renewable energy programs designed for residential and commercial customers looking for environmentally-friendly energy options.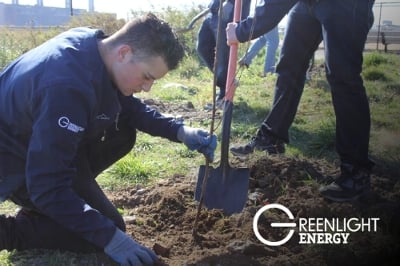 As part of America Recycles Day, Greenlight Energy planted nearly 400 trees in New York's City's Randall's Island parks. (Source: Greenlight Energy)
In October, Greenlight Energy began offering no-cost solar installations in order to reduce electricity rates while at the same time offering clean, green solar energy to customers. It also began a program to retrofit homes and businesses with light emitting diode (LED) lighting in order to cut energy costs. The third program involves Greenlight Energy offering a 100% renewable electricity and carbon-neutral natural gas fixed-rate plan.
The company says this type of plan is not being offered by local utilities currently and were devised to keep customers away from volatile rates caused by supply/demand problems, unpredictable weather patterns and other events.
Greenlight says these programs were developed through a combination of research, strategic partnerships and customer feedback about the demand for renewable energy and the need for an alternative in the New-York region.
In order to commemorate America Recycles Day last month, Greenlight donated and planted nearly 400 trees to New York City's Randall's Island parks.