Image credit: SUNY PolyThe Colleges of Nanoscale Science and Engineering at SUNY Polytechnic Institue in Albany, N.Y., is possibly the world's most advanced university research enterprise in existence today. With more than $40 billion invested in high-technology and over 4,000 scientists, engineers, students and faculty, the facility has attracted more than 300 industrial partners to develop technology in semiconductor fabrication and nanotechnology.
Among the many buildings on campus, the new ZEN (Zero Energy Nanotechnology) building is the jewel of the crown. This $200 million, six-story, 400,000-square-feet structure is designed to produce more energy than it needs to operate by using renewable energy sources, such as solar panel and phosphoric acid fuel cells, as well as efficient use of natural light. The ZEN building supports a wide range of activities, including Research & Development, office space for research partners in business and industry, as well as teaching space for faculty and students.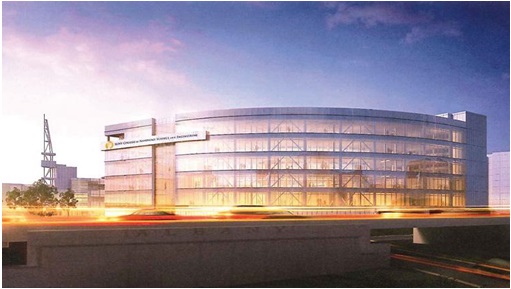 Zen Building. Image credit: SUNY Poly"ZEN is our Zero Energy Nano building and today it's our signature building on campus," said Pradeep Haldar, CNSE Vice President of Entrepreneurship Innovation and Clean Energy Programs. "This is absolutely a cutting-edge building. What you see in this facility, the equipment, the technologies, the design elements that are being used here have not been done before," Haldar adds.
The ZEN building has a 10,000-square-feet central atrium covered with a donut-shaped dome roof that provides daylight to offices to reduce lighting electricity needs by more than 70%. During the day, most ZEN offices do not need any electric lights except for small LED lamps for special tasks.
People who work in the building carry RFID cards that track their movement and usage of the building. The cards are also used to turn on the lights of the room when the first person enters and turn off the lights when the last person leaves the room.
"This has not been accomplished before in this type of environment," said Pradeep Haldar, vice president of entrepreneurship innovation and clean energy programs at SUNY Poly. "We are laying the groundwork for the adoption of technologies that can transform the way we think about buildings and decrease the amount of energy they require."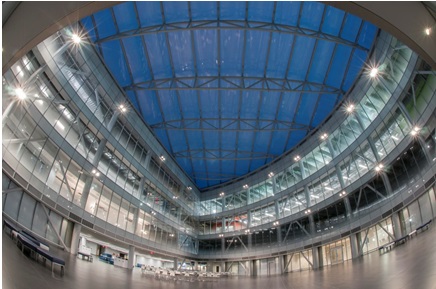 Zen atrium. Image credit: SUNY Poly
For CNSE managers the new ZEN building is the next great innovation in clean energy. "In terms of implementing commercial technologies not just in New York but across the country, I would say yes, the technology would be emerging from here for sure," said Haldar.
The building has also attracted foreign scientists. Last year SUNY Poly joined Japan's New Energy and Industrial Technology Development Organization (NEDO) in a $25 million partnership to invest in emerging energy technologies at the ZEN building. The partnership is an outgrowth of a U.S. Department of Energy program called the "Net-Zero Energy Commercial Building Initiative," whose purpose is to get all commercial buildings to be net-zero energy by 2050.
These funds were used to install, commission and demonstrate state of the art technologies including solar photovoltaics, lighting, fuel cells and smart building energy management systems. New York Governor Andrew Cuomo said "this partnership is an example of how the state's targeted investments in the nanotech sector are continuing to cement New York's place at the forefront of scientific research – and the world is taking notice. The collaboration between CNSE and NEDO is one that will create jobs and opportunities for New Yorkers and businesses not just in the region, but throughout the high-tech energy field."
For a country like Japan, with limited natural resources and wariness of nuclear energy following the 2011 Fukushima disaster, the knowledge on how to design buildings that are entirely self-sufficient has become a national passion, said Koji Abe, deputy chief of mission of the Japanese consulate general in New York City.
Abe said Japan has put many resources and funds on renewable energy technologies to reduce greenhouse gases and lower global warming that some believe has led to a spike in natural disasters like the tsunami. "The ZEN building will have a great impact on the environment," Abe said. "We have to work with other countries to prevent that type of disaster from happening again."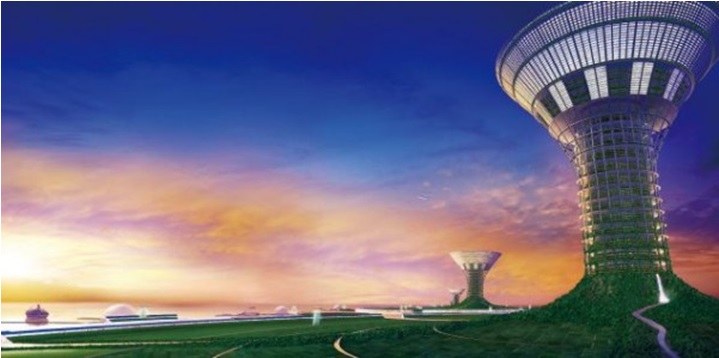 Botanical city. Image credit: Shimizu Corp.NEDO hired a globally recognized architectural and civil engineering firm – the Shimizu Corporation of Japan – to implement their day-to-day work related to the project. Kazunori Nakayama, general manager of Shimizu, said "Leveraging our combined strengths creates an effective approach to test next-generation energy efficiency technologies. We also look forward to this work that will significantly contribute to the establishment of international standards and the development of solutions with the ultimate goal of achieving widespread construction of zero energy buildings as a result of using the CNSE ZEN building as a testing ground for energy-based innovations."
As a result of learning from the ZEN building, Shimizu Corporation is planning (or imagining) a future where there are man-made, self-sufficient, zero-energy floating cities that they call 'green floats' or 'botanical cities' that look like floating mushrooms. These cities, they envision, will be immune to tsunamis and earthquakes.
According to Shimizu engineers, these green float cities will not only be zero-energy but also carbon-negative. The cities will have carbon recovery and ocean sequestration systems to generate power from ocean waves. They would be surrounded by mangroves, plants that are a natural barrier to the elements.
The ZEN building, one of the largest structures in the world with the zero-energy designation, expects to host over 1,500 well-paying jobs. Besides academic usage, several businesses have moved to ZEN already, including: