CIT Relay & Switch announced the L115F2 series latching relay. The company positions this addition to its relay family as ideal for energy smart applications. A single-coil power relay, the UL/c-UL approved and TUV certified L115F2 withstands heavy contact loads with strong shock and vibration resistance. It is UL F class rated standard.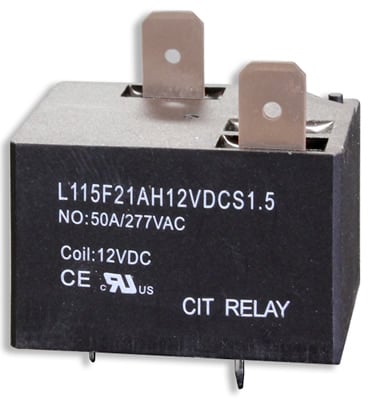 CIT Relay & Switch L115F2 Series Latching Relay. (Source: CIT Relay & Switch)
Available in Form 1A (single-pole, single-throw, normally-open), Form 1B (single-pole, single-throw, normally-closed), and Form 1C (single-pole, double-throw, break-before-make) contact arrangements, the relays in this series carry contact ratings of 30A, 40A and 50A, at 277VAC.
They operate on coil voltages of 5-, 12-, 24-, or 48-VDC, drawing 0.9 - 1.5W. Devices in this series use AgSnO2 or AgSnO2In2O3 contact materials, and present a contact resistance of less than 50mΩ.
Offered in a PC pin-mount package measuring 31.9 mm x 26.8 mm x 28.1 mm and weighing 28g (20g without cover), the relays in the L115F2 Series feature an electrical life of 50,000 cycles and a 1 million-cycle mechanical life. They offer a minimum coil-to-contact dielectric strength of 2500Vrms (contact-to-contact: 1500Vrms min.). Insulation resistance is a minimum of 1,000 ohms at 500VDC. Shock resistance is 200m/s2 for 11 ms and vibration resistance is 1.5mm (double amplitude) for frequencies in the 10-40Hz range. This series operates over the -55°C to 125°C temperature range.