LG Display plans to spend $8.7 billion in order to build a new manufacturing facility for organic light emitting diode (OLED) production.
This will no doubt toss more fuel on the fire that Apple is going to be using OLED displays for a future version of the iPhone, as LG is one of the primary display suppliers for the mobile device giant. The new fab, known as P10, will be built in Paju, Gyeonggi Province in Korea with production expected to begin in the first half of 2018.
LG says the new plant will mainly produce both large-size OLED TV panels and flexible OLED panels for use in smartwatches and automotive displays. The initial investment of $1.6 billion will begin this year and be used to build the foundations for the clean rooms and infrastructure for water and power supplies. The total investment will be $8.7 billion and LG plans to gradually expand the scale of the production line based on customer demand and market conditions. When completed, P10 will cover an area about the size of 14 football fields and will be 100 meters high.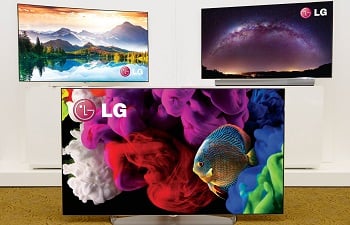 LG is expanding its production of OLED displays for the TV market with a new fabrication facility. Source: LG
IHS forecasts the global OLED panel market will grow to $29.1 billion by 2022, up from $8.7 billion in 2014. TV manufacturers in Korea, China and Japan have already introduced OLED TV models and more TV manufacturers in Japan and Europe are expected to adopt OLED TVs in the near future as demand ramps among consumers. Also, as smartwatch penetration and more vehicle OEMs introduce more options for users, OLEDs are expected to encroach on LCD panels.
Dr. Sang Beom Han, CEO and president of LG Display, says in a statement the investment will not just expand the OLED market, but "also accelerate the development of future display technologies."
To contact the author of this article, email engineering360editors@ihs.com