Samsung Electronics Co. Ltd. is planning to invest an additional 10 trillion won ($9.2 billion) in its planned Pyeongtaek, South Korea facility to boost capacity in its DRAM and mobile processor chips.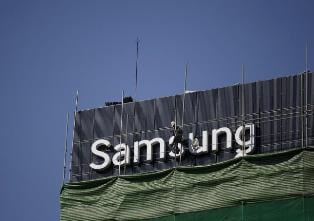 A worker works on a Samsung outdoor advertisement installed atop an office building in central Seoul, Korea. Image Source: Samsung.comIn October 2014, Samsung said it would invest about $14.6 billion in the 790,000 square meter facility, located in the Godeok Industrial Complex in Pyeongtaek. The additional spending would be an increase of about 64% over the initial announced investment plans.
According to a report from the Reuters news service, the plant is scheduled to begin production in 2017 and will mainly produce DRAM memory chips. It could also be used to manufacture applications processors.
As Samsung's mobile handset business has seen a decline, the electronics giant is gearing up its semiconductor manufacturing as a way to offset losses happening in that segment as well as its flat panel display business. Recently, Samsung said it would be invest about $3.6 billion to boost production of its organic light emitting diode (OLED) panels. Samsung also recently acquired YESCO Electronics LLC in order to expand its LED display market and extend its reach in the large-format display space.
Questions or comments on this story? Contact dylan.mcgrath@ihs.com
Related links:
IHS Semiconductors & Components
News articles: