For reverse polarity protection in high-current industrial power tools and automotive applications, Texas Instruments (TI) has released a smart diode controller in a compact package with zero quiescent current. Labeled LM74610-Q1, the smart controller is designed to cut power loss to provide better efficiency against Schottky diodes and p-channel MOSFETs. By comparison, a conventional diode has about 0.7 V forward voltage drop that results in high-power dissipation, especially when the input current is high. Likewise, p-channel MOSFETs are inefficient for high-load current and low-input voltage.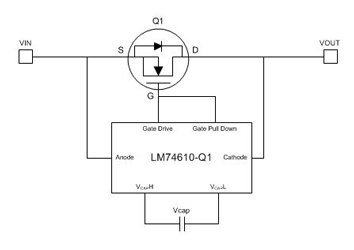 In essence, the LM74610-Q1 incorporates a floating ground architecture to keep quiescent current IQ to zero. When paired with the maker's n-channel MOSFET, such as the CSD17313Q2Q1 NexFET, the duo emulates a diode rectifier when connected in series with a power source, discharging the MOSFET gate in the event of reverse polarity. The on-chip high-speed comparator discharges the MOSFET gate when reverse polarity occurs. It can also be used to combine two alternate power sources in an O-Ring configuration to provide redundancy.
Offering 45 V reverse voltage capability, the AEC-Q100 qualified LM74610-Q1 is also designed to protect against automotive transients. In addition, the device also meets CISPR25 Class 5 EMI specifications and automotive ISO7637 transient requirements with a suitable TVS diode.
Available in volume from TI and its authorized distributors, the LM74610-Q1 is packaged in an 8-pin, 3-mm x 5-mm xy 1.1-mm VSSOP package and priced at $1.25 in 1,000-unit quantities. An evaluation module, labeled LM74610-SQEVM, demonstrates reverse protection as a replacement of Schottky diodes and p-channel MOSFETs. For reverse polarity protection in a diode O-Ring configuration, TI has created another evaluation module, labeled LM74610-DQEVM.
To contact the author of this article, email engineering360editors@ihs.com