Sharp has integrated FlowVella into its Strategic Technology Alliance Resource (STAR) program allowing Sharp's AQUOS interactive display to be converted into a 80-inch mega-iPad for use in schools, corporate environments or where digital signage is available.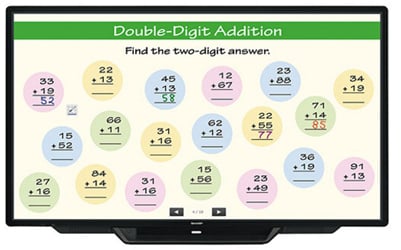 An 80-inch iPad can be used by schools to create a large learning environment that can be used by multiple children at once. Source: SharpUsers can plug a Mac computer or iPad running FlowVella into any Sharp AQUOS BOARD interactive display to create an interactive multimedia presentation under five minutes with no learning curve, FlowVella says. It will appear as if a giant iPad is available complete with touch screen capability.
"What can be done with an iPad mobile digital device-driven touch screen of giant proportions? School-based teaching comes alive, corporate meeting rooms sizzle, building signage becomes interactive in the lobby, companies can tell their story and sell their products and services like never before," says Brent Brookler, CEO of FlowVella. Brookler adds that this type of mega iPad could also be used by museums and galleries to augment details and history of exhibits or artwork complete with video, photos, documents and other data in just a few minutes.
According to IHS, revenue for digital signage is forecast to increase by 10% in 2015. In 2016, it is expected to grow an additional 7%. Growth in this segment is attributed to the wider availability of larger panels, ultra-narrow bezel video wall displays, higher resolution, lower power consumption and a variety of content management software combined to cut the total cost of these solutions to customers.
Questions or comments on this story? Contact engineering360editors@ihs.com
Related links:
News articles:
Google Takes on Apple with Revamped Android Pay
Digital Signage to Grow by Double-Digits, IHS Says