Planar Systems Inc. has collaborated with an interactive design firm to install a 135-square-foot touchscreen liquid crystal display (LCD) video wall inside the Seattle Space Needle.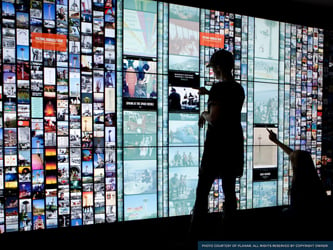 Planar's SkyPad is a huge 135-square-foot touchscreen video wall showcasing the history and evolution of the Space Needle. Source: PlanarNamed Skypad, the video wall showcases the history and evolution of the Space Needle by highlighting both past and present images and videos for education on the Pacific Northwest's famous landmark. Planar worked with Seattle-based Belle & Wissell Co. to help create the interactive design that creates a modern take on the once World's Fair icon.
Built in 1962 for the World's Fair, the Space Needle attracts more than 1 million guests annually where visitors can take in a 360-degree view of Seattle, Puget Sound, the Cascade Range and Olympic Mountains. SkyPad allows an interactive path through the building's history.
The video wall is composed of 15 Planar Clarity Matrix LCDs in a five-foot wide by three-foot high configuration with 32 touch points—allowing for multiple users to interact simultaneously.
Questions or comments on this story? Contact engineering360editors@ihs.com
Related links:
News articles:
Decline in Flat Panel Display Revenue Expected in 2015
Digital Signage to Grow by Double-Digits, IHS Says