Alpha and Omega Semiconductor Ltd. (AOS) has released a 20 volt dual n-channel MOSFET for applications such as smartphones, tablets, media players and wearables.
MOSFETS are seen as an essential device for battery safety. With the growing demand for more data processing capabilities and longer operating time in smartphones, lithium batteries are moving toward another stage of higher capacity. These batteries at the same time are allowing for higher charging current in order to power-up much faster. AOS' AOC3864 is designed to solve die chipping, cracking and placement issues associated with standard CSP products.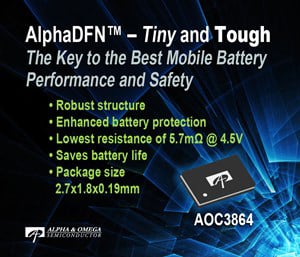 AOS has expanded its AlphaDFN family with a MOSFET that has a low resistance and a small form factor. Source: AOS
The MOSFET joins AOS' AlphaDFN family of devices with the ability to achieve a 5.7mOhm at 4.5V maximum source-to-source resistance. The device allows for the benefits of low resistance and a small form factor for greater mechanical robustness and reliability, AOS says.