Shipments and new orders for semiconductor equipment increased in October, indicating semiconductor manufacturers are investing in advanced technologies for flash memory and microprocessors, according to trade association SEMI.
Orders for semiconductor equipment in October increased 13.3 percent from the previous month and 51.4 percent from October 2012, the association said.
North America-based manufacturers of semiconductor equipment posted $1.12 billion in orders worldwide in October, up from $992.8 million in September. Orders in October 2012 totaled $742.8 million.
The three-month average of worldwide billings (shipments) in October was $1.07 billion, up 4.9 percent from September when shipments were $1.02 billion. The October shipment figure was also 8.7 percent higher than October 2012, when shipments totaled $985.5 million.
The book-to-bill ratio in October was 1.05. That means equipment manufacturers received $105 in new orders for every $100 of orders that shipped.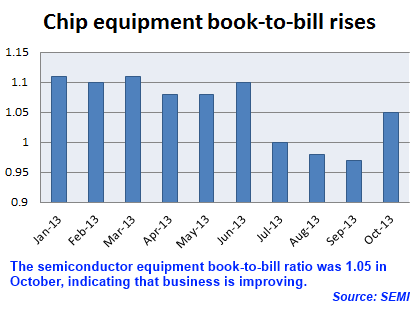 "Both equipment orders and billings improved in the October, resulting in a book-to-bill ratio returning above parity," said Denny McGuirk, president and CEO of SEMI. He said the October bookings and billings figures indicate semiconductor manufacturers are investing in advanced process technologies for flash memory, microprocessors and foundries.
The SEMI book-to-bill is a ratio of three-month moving average of worldwide bookings and billings for North American-based semiconductor equipment manufacturers.
Related stories: