Between Cygnus and Lyra constellations is star KIC 8462852, featuring irregularly shaped objects orbiting that are called "unnatural" by astronomers. A dimming pattern that makes up the objects of KIC 8462852 is unlike any discovered near 150,000 other stars analyzed by the Kepler Space Telescope. The pattern of objects is in extremely tight formation.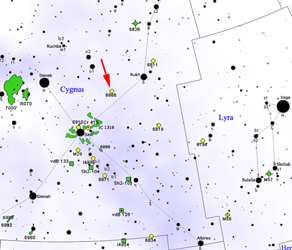 Map showing location of NGC 6866, KIC 8462852 is northeast between NGC 6866 and Omicron-1 Cygni. Source: WikipediaA messy field of debris that becomes planets as a star's gravity molds and shapes them typically characterizes young solar systems. However, KIC 8462852 is not young. A field of dust surrounding a young star would give off infrared light, and in this case, excess infrared light is not observed.
Postdoc Tabetha Boyajian at Yale claims they have never seen anything like this star. Initially it was thought it might be bad data or movement on the spacecraft, but everything checked out.
Given that the objects are irregularly shaped, it is likely that it was deposited there recently, otherwise the pattern would be more regular or swallowed up by the star's gravitational field.
Scenarios as to what it is vary from instrument defects, to an asteroid belt pileup, to planets crashing—however explanations have been narrowed to two. First, the debris field could be a sea of comets, recently pulled inward into the solar system by the gravity of another close-passing star. This would be highly coincidental and not observed in any other star—ever.
The second possibility, scientists do not put forward lightly. It is possible that there is no natural explanation for the objects circling KIC 8462852 and they are alien.
According to Jason Wright, an astronomer from Penn State University, the pattern looked crazy. Aliens should always be the very last hypothesis considered, but this looked like something an alien civilization would build.
The idea has sufficient interest that researchers at SETI (Search for Extraterrestrial Intelligence) have submitted a proposal to point a radio dish at the star, to see if it emits radio waves at frequencies associated with technological activity. The first observation is not expected to happen until early in 2016.
To contact the author of this article, email engineering360editors@ihs.com