Makers, hobbyists, technology enthusiasts—call them what you want, but there is a group of people playing with electronics and trying to figure out how things work, how to make them better, and how to engineer some incredible devices.
Just recently, we saw thousands of people gather in New York to attend the sixth annual World Maker Faire. Makers showed off their newest innovations and guests were able to get hands-on with technology.
Many of these makers have also created viable products that do well in today's market. Creating a successful business is no easy task, so what factors are contributing to "maker culture" success stories?
1. Makerspaces
Makerspaces are actual physical locations where makers, hackers, hobbyists and enthusiasts can collaborate on projects, share educational resources, or just network and make connections.
Typically these places do not run on any schedules, but instead open themselves up to any informal activity, allowing students to self-learn, as well as seek help from others that may be working.
Many colleges have seen the value in the makerspace concept. The University of Mary Washington opened the ThinkLab, which hosts a variety of emerging technologies and tools for students and faculty such as 3D printing, robotics and electronics. MIT launched Fab Labs as an educational outreach method and technical prototyping platform for innovation and invention in order to stimulate local entrepreneurship.
Now, a makerspace company called TechShop, initially based in San Francisco, is also planning to launch over 1,000 small maker spaces over the next two years and continue the expansion of knowledge and the movement.
2. Open Source
To piggyback on the idea of collaborative Makerspaces, the open-source trend is also contributing to the creation of many new technologies. The Open Source Hardware Association defines open-source hardware as "hardware whose design is made publicly available so that anyone can study, modify, distribute, make and sell the design or hardware based on that design."
3. DIY Learning Kit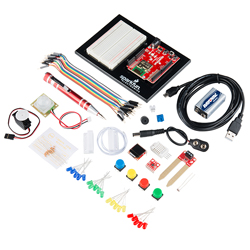 A DIY Soldering Kit from Sparkfun Electronics.
Scour the Internet and you will encounter countless do-it-yourself (DIY) learning kits. You can find kits offering education in soldering, robotics,
remote controls and Raspberry Pi—just to name a few—bringing electronics expertise directly into the hands of anyone interested.
4. Media Exposure
While the Maker Movement is said to be attributed to Maker Media, which launched Make: magazine back in 2005, followed by the first Maker Faire in 2006, there are so many news sources that now cover maker-related projects and updates in excess, drawing more attention to up-and-coming technology and the designers behind it.
5. Crowdfunding
Crowdfunding allows anyone with a valid product to raise funds for production costs.
So, as the maker movement grows, fostering many new inventions, those teams of makers have a new opportunity to fundraise and even test out the market proving that their products are actually in demand. Some popular crowdfunding sites include Kickstarter, Indiegogo and GoFundMe.
6. Major Company Involvement
At World Maker Faire in September, big names such as Google, Atmel and Intel made an appearance, sponsoring the event, but also teaming up with makers to play a role in their projects.
In addition to getting involved by featuring hands-on learning activities and demonstrating inventions created with the Intel Edison and Intel Galileo development platforms at the recent World Maker Faire, Intel will also be dabbling in the reality TV territory, launching a television show in which makers will compete for $1 million to create the next "truly amazing device." America's Greatest Makers will premier next year, drawing more attention to the maker movement and propelling future entrepreneurs.
7. Mobile Apps
'There's an app for that.' There's just about an app for everything, though. Today's makers have an excessive amount of information available at their fingertips via Internet resources, manuals and forums, but information and tools are even more accessible to makers via mobile applications. There are plenty of 3D-printing apps that include scanners and design platforms, as well as Adafruit's Circuit Playground for all circuit related endeavors, and even apps for controlling your Raspberry Pi or Arduino via cellphone.
8. Finding Low-Cost and Affordable Components Anywhere
While searching for electronic components for DIY projects is not a difficult task, searching for inexpensive components may be, especially for hobbyists making one-off prototypes. Some makers use the Internet to find affordable parts, or even head to the junk yard. Maker Chris Tomko who recently appeared at World Maker Faire to fire up his homemade jet engine, says he purchases about 75% of his project parts on Amazon or eBay, but has also searched scrap yards for necessary parts.
9. 3D Printing
3D printing now takes up a large portion of Maker Faire events. Just this year, at World Maker Faire, there was an entire community dedicated to 3D printing projects. 3D printing technology assists makers by allowing anyone with a printer to manufacture custom components quickly, creating a quick turnaround for both individual prototyping and mass production of parts.
Successful Products that Appeared at Maker Faire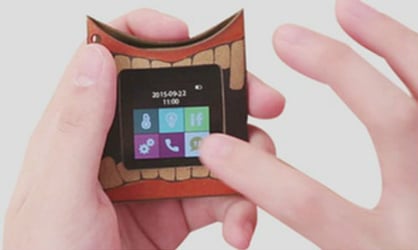 The RePhone. (Image Credit: Seeedstudio/RePhone)While everyone at Maker Faire is filled with imagination and innovative design, certain products have been the buzz in the media over the past few years. Recently, the RePhone made an appearance at World Maker Faire. The world's first open-source and modular phone launched a Kickstarter campaign shortly after and has far exceeded its initial funding goal, which means expected delivery of the product is set in place for January 2016.
C.H.I.P., the world's first $9 computer by maker Dave Rauchwerk has also made an appearance at Maker Faires across the country. Rauchwerk managed to raise over $2 million in funding and his product began shipping in late September.
Keep an eye out for future success stories coming out of Maker Faires worldwide.
To contact the author of this article, email engineering360editors@ihs.com