Building a jet engine, sometimes called a gas turbine, is definitely a task that requires some experience, but 18-year-old Chris Tomko had a head-start and has been developing turbine engines in his backyard for two years now.
Like many other makers who strive to improve on the inventions of others, Tomko came across a YouTube video of an at-home turbine, which sparked his interest and propelled him to create his own engines based on automotive engines.
According to NASA, a jet engine works by sucking air into a fan. A compressor then raises the air pressure. Once compressed, the air is sprayed with fuel and ignited with a spark. As the burning gases are expelled through the back of the engine, both the engine and vehicle are pushed forward—creating motion. Another component, the turbine, made predominantly of a grope of blades, is attached to the compressor, so as the turbine spins, the compressor spins.
So far, Tomko has designed, built and successfully tested two functional turbojet engines, the G1 and G2, and is currently working on a hyper-efficient internal combustion engine prototype.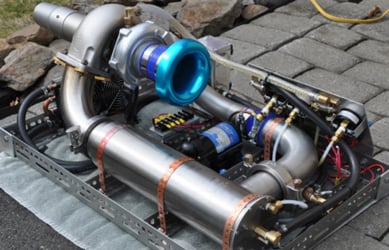 Tomko's jet engine. Credit image: Chris TomkoAlthough his engines have been successful so far, he first experimented with other, not-so-successful jet-engine creations.
"I tried using tin cans and sheet metal, but they didn't go anywhere," Tomko says.
While jet engines are typically thought to propel an aircraft forward by producing a forceful thrust, they can propel almost any kind of craft.
Tomko originally constructed the G1 engine as merely a means of familiarizing himself with the concepts and then applied his acquired knowledge to the G2, which he used to power his own jet kart—the "most common option" for putting a turbine engine to use, he says.
He is now considering new options to put his next jet engine to work, possibly using it to power a kayak.
Tomko's engines are based on the same concept as an aircraft engine, but built differently.
"[The engines] are similar to the miniature extra power supply engines found on an aircraft, but in design they're different," he says in an interview.
So how exactly do you go about building a jet engine?
First, Tomko had to formulate the general concepts of the engine and determine how he wanted it to perform. Once he drew diagrams transferring his thoughts onto paper, he began searching for the best prices for the components needed.
"I've bought parts at the scrap yard, but 75% of the parts come from online (Amazon and eBay)," he says.
He then had to tackle the customized parts, since half of the engine's parts require a custom build. This part of the process includes fabricating specialty tubes.
About six to seven months into construction, he began preliminary engine tests by starting up the engine and acquiring basic data readings.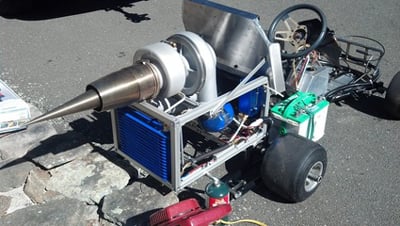 Tomko used the G2 engine to power up a jet kart in his driveway. Credit image: Chris Tomko
After eight or nine months, he assembled all of the parts to create the final product.
Tomko says that there is a basic parts list for any turbocharger-based engine centered on the turbocharger itself, which can be purchased as a whole unit as a jumping-off point.
The real challenge comes in designing the combustion chamber, which is a completely custom part.
Majority of the construction is done right from his home. His father, a woodworker, has a metal and woodworking shop out back where Tomko can create all of his engine parts.
He even fired up his jet kart right in his driveway, which achieved speeds of 15 to 20 mph.
"I've done loops around the driveway, but would like to get it to the track," says Tomko. If the vehicle is properly functioning, it can reach speeds of 50 mph.
He will make an appearance at the New York World Maker Faire later this month where he will fire up one of his jet engines for visitors.
If you are interested in constructing a DIY jet engine, you will likely come across plenty of resources on the Internet, but proceed with caution. Projects of this nature can be dangerous as a result of the explosive fuels, kinetic energy and rotating parts. Precautions include eye and ear protection, as well as leather gloves.
Tomko recommends having a background in mechanical or electrical engineering if you are going to tackle such a project. However, the Internet offers plenty of resources that do not deem this a requirement.
Questions or comments on this story? Contact [email protected]