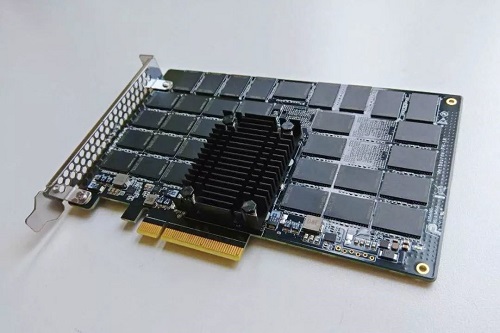 The new G5i series. Source: Shannon Systems
Shannon Systems has introduced a new Direct-IO PCIe solid state drive (SSD) storage solution that supports 3D TLC NAND flash using Fit Fast Structured Array (FFSA) controller with up to 32TB capacity.
The G5i series SSD is an enterprise-grade storage solution that helps with I/0 bottleneck issues in high performance, high capacity enterprise and data center applications. The SSD uses parallel processing-based flash memory controller for system reliability and performance consistency by minimizing the intermediate link and resource conflicts. The series has a capacity ranging from 3.2 TB to 32 TB.
The drive offers a read bandwidth of up to 3.9 GB/s with sequential write bandwidth of up to 2.7 GB/s and 1,000 K/310 K random read/write IOPS. Shannon Systems said the fault tolerance, correction and detection mechanism provides end-to-end data protection and helps with reliability for enterprise-grade applications. The DRAM-less design gives the SSD a small controller internal cache that can automatically and securely transfer to flash memory when power failure occurs.
The Direct-IO PCIe Flash uses adaptive processing as well as dynamic data and load tracking technologies to minimize the write amplification factor and maximize system life.