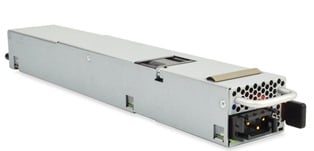 The PSD-1100-12 series.CUI Inc. announced the expansion of its 1100 W front-end power supplies to include DC input versions. The company says its PSD-1100-12 series delivers high power density and achieves "platinum efficiency" in a 1U package measuring 1.575 x 2.145 x 12.65 inches (40 x 54.5 x 321.3 mm).
The company says the 54 mm profile allows designers to minimize application space compared to larger solutions on the market. The power supply outputs 12 Vdc with 5 Vdc or 3.3 Vdc pin-selectable standby. The PSD-1100-12 is hot pluggable with a dc input connector at the front and an output connector that integrates dc power and signal pins at the back. With an input range of 40~72 Vdc, the unit is designed to be compatible with CUI's existing ac input PSA-1100-12, allowing plug and play operation between the two versions.
The series is designed for telecom, server and networking rack mount applications where a mix of ac input and dc input versions are required. The PSD-1100-12 includes system communications via I2C/PMBus protocol for control and monitoring of the unit. The company says the main 12 Vdc output delivers up to 92 A with droop current sharing for paralleling multiple units; forced current sharing is optional. The series is available in front-to-back or back-to-front airflow configurations depending on the application's cooling requirements.
The company says the PSD-1100-12 also offers 60950-1 safety approvals and complies with all applicable EMC requirements. Protections for over-voltage, over-current, over-temperature, and input under-voltage are standard.
Related Links: