To enable design and development of AC to point-of-load (PoL) power system using ultra-thin, very high-performance, highest density power components, Vicor Corp. has readied a new AC to PoL development kit (ACPoL DKit). The ACPoL DKit comprises an AC front-end (ACFE) chassis, which receives power from the AC line and delivers up to 400 Watts of power via an isolated, regulated, distribution bus voltage, and a PoL chassis, which receives the distribution bus voltage and generates three independent regulated DC outputs. While one version of the development kit offers a 24 V DC distribution bus, another features a 48 V DC bus-- it includes all the necessary ancillary components, including a bus hold-up capacitor assembly and an AC line cord.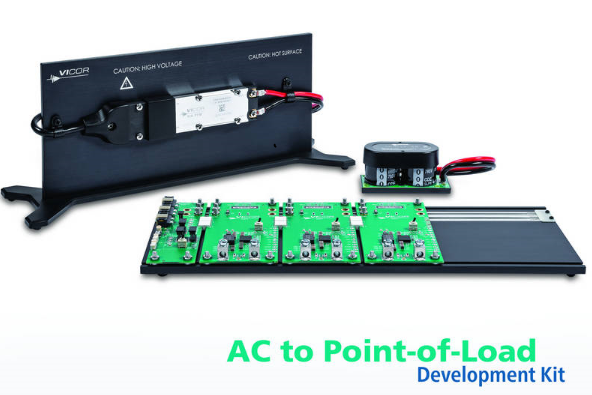 The ACFE chassis consists of Vicor's AIM 1714 and PFM 4414 modular front-end components, each packaged in the company's compact, thermally adept, 9 mm thin, VIA package. The AIM module provides full-wave rectification, Class B conducted EMI filtering and input surge protection. Likewise, the power factor corrected (PFC) PFM module receives its input power from the AIM to deliver up to 400 watts of fully isolated, regulated, 24 VDC or 48 VDC bus voltage for powering downstream PoL buck regulators. The AIM/PFM combination enables power systems designers to instantly implement a full function AC/DC front-end system in a fraction of the space of conventional "1U" solutions.
Similarly, the PoL chassis features three independent PoL evaluation boards and a power input interface assembly. The power interface receives the regulated 24 or 48 VDC power from the ACFE chassis and distributes it to the three PoL regulator boards. The three PoL evaluation boards employ a 3.3 VDC, 5 VDC and 12 VDC PI33/PI35xx Vicor Cool-Power ZVS buck regulators housed in a 10x14 mm or 10x10 mm LGA SiP package, respectively.