OleumTech has launched its IO MAX Wireless transmitter, to deliver onboard I/O and the ability to be externally powered. The transmitter is equipped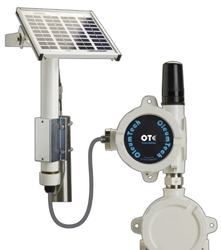 IO MAX Wireless Transmitter. Source: OleumTechwith four analog inputs (user configurable for 4-20mA or 0-10VDC), two digital inputs, two digital outputs and RS485 Modbus Master functionality in a single self-contained, ruggedized wireless end node.
Designed as a turnkey solution for a majority of remote monitoring and control applications, the IO MAX Transmitter can be externally powered using a 9-24 VDC power source or with the optional OleumTech Solar Power Pack (12VDC CID2). The device provides a robust RF range of up to 10 miles using 900MHz or up to 4.3 miles using 2.4GHz.
Related Links: