Microchip Technology has expanded its eXtreme Low Power (XLP) PIC microcontroller portfolio. The company's PIC24F 'GB4' offering now includes an integrated hardware crypto engine with both one-time-programmable (OTP) and key RAM options for secure key storage, up to 256 KB of flash memory and a direct drive for segmented LCD displays, in 64-, 100- or 121-pin packages.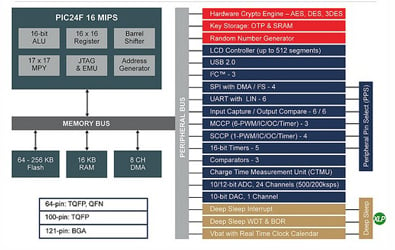 Microchip PIC24FJ256GB412 family block diagramDual-partition flash with live update allows the device to hold two independent software applications for the simultaneous programming of one partition while executing application code from the other. Industrial, computer, medical/fitness and portable applications are beneficiaries, as they require secure data transfer and storage as well as a long battery life.
According to Joe Thomsen, vice president of Microchip's MCU16 Division, "The combination of our XLP technology and encryption capabilities enables this new PIC24 GB4 family to increase the integrity of embedded data for a broad range of applications, without sacrificing power consumption."
Microchip's core independent peripherals (CIPs) without a CPU are integrated into the PIC24F offering. The hardware crypto engine, which includes support for the AES, DES and 3DES standards, is claimed to reduce software overhead, lowers power consumption and enables faster throughput. A random number generator is used for generating random keys for data encryption, decryption and authentication and enables improved security.
For additional protection, this family offers two crypto-key storage options: OTP to prevent overwriting keys, or key RAM that erases keys if power is lost. To allow the application's real-time clock to continue running when primary power is removed, a VBAT pin can be used to supply back-up power.
A segmented LCD display driver provides the ability to directly drive up to 512 segments, enabling more informative and flexible displays that include descriptive icons and scrolling. The PIC24F "GB4" family also is supported by Microchip's standard suite of development tools.
The PIC24F MCUs are available starting at $1.80 each, in high volumes.
To contact the author of this article, email engineering360editors@ihs.com
Related Links:
For additional information visit Microchip's Web site at http://www.microchip.com/PIC24FJ256GB410-082415a.