The new MicrochipATmegaS64M1 microcontroller is designed to withstand high temperatures and have reliability in critical aerospace environments with sustained radiation. The CAN controller, power stage controller, ADC, DAC and analog comparators make the ATmegaS64M1 microcontroller a great choice for many of the most common space applications, which typically require a small footprint and low power like motor control and remote terminal units.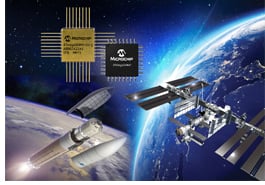 Source: Microchip
Features
Benefit from the full Microchip ecosystem to ease the development phase.
Ceramic hermetic package: radiation performance improvement compared to industrial, commercial or automotive version.
Latch-up immune with SEL LET>60 Mev, SEU and TID performance characterization.
Space-grade quality flow: full wafer lot traceability, space screening, space qualification.
Includes CAN and LIN buses
-55° to 125° C temperature range
Full lot traceability and long-term supply
Operating voltage: 3 to 3.6 V
Output channels: 10
PWM channels: 10
Flash memory: 64 kBytes
Development Tools:
Supported by software libraries and the Atmel Studio Integrated Development Environment (IDE) for developing and debugging, the STK 600 provides a quick start for code development with advanced features for prototyping and testing.