The FitBit Surge is not a smart watch in the strictest sense, but it is more of a smart watch than a "simple" fitness monitor like the FitBit Flex.
Among the distinguishing features are a built-in optical heart rate sensor, GPS receiver and services like incoming call alerts, missed calls and text messages. The display is a 144 x 168 pixel monochrome LCD with a backlight for low ambient light situations.
The optical heart rate sensor is based on FitBit's PurePulse technology, which uses LEDs and photo-sensors to sense the changes in local blood vessel volume with each heartbeat. Heart rate monitoring and tracking is 24/7, as is automatic sleep tracking.
Summary points:
Smart Watch - Time, GPS tracking, Text, Fitness, and More
Built-In GPS, Heart Rate Monitoring
Data Connection via Bluetooth 4.0
1.26", 144 x 168 Pixel Transflective Mono LCD
Target market: Consumer
Released: 1Q2015
Pricing: $249.90
Availability: Worldwide
Total cost (direct materials and manufacturing): $36.89
Major Components:
- MCU, 32-Bit ARM Cortex-M3, 48MHz, 1024KB Flash, 128KB RAM, 8-Channel 12-Bit ADC, 93 GPIOs - MFG: SILICON LABORATORIES INC - MPN: EFM32GG395F1024-BGA120 - (Qty: 1)
- Enclosure, Main, Top, Injection Molded Plastic, w/ 8 Pressed-In Threaded Brass Inserts, w/ Etched Copper Antenna, w/ 3 Epoxy Potted - (Qty: 1)
- Display Window / Touchscreen Assembly, 1.26" Diagonal, Capacitive, GF2 Type, Painted, w/ Integral Flex PCB - MFG: ALPS ELECTRIC CO LTD - (Qty: 1)
- Display Module, 1.26" Diagonal, Transflective Monochrome, 144 x 168 Pixels, 175 ppi, w/ Integral Flex PCB, w/ 1 LED Backlight - MFG: SHARP CORP - MPN: LS013B7DH01 - (Qty: 1)
- Enclosure, Main, Bottom, Injection Molded Plastic, Clear Coated, w/ 8 Pressed-In Threaded Brass Inserts, w/ Injection Silicon Rubber - (Qty: 1)
- Bluetooth USB Dongle, Bluetooth V4.0, Contains Texas Instruments CC2540 - (Qty: 1)
- 8-Layer, FR4/RCF HDI, 3+2+3, Lead-Free - MFG: MULTEK HONG KONG LTD - (Qty: 1)
- Accelerometer / Gyroscope / Magnetometer, 9-axis Motion Tracking, ±2g/±4g/±8g/±16g Accelerometer, ±250dps/±500dps/±1000dps/±2000dps Gyroscope, 3-Axis Magnetometer - MFG: INVENSENSE INC - MPN: MPU-9250 - (Qty: 1)
- Amplifier, Op Amp, 1.8V, 7MHz, Low Offset, Rail-to-Rail - MFG: TEXAS INSTRUMENTS INC - MPN: OPA2363AIRSVR - (Qty: 2)
- GPS Receiver, Single Chip, 66-Channel GPS, GNSS / QZSS / SBAS, ARM 7 CPU, w/ Built in LNA, w/ 16 GPIOs - MFG: MEDIATEK INC - MPN: MT3339 - (Qty: 1)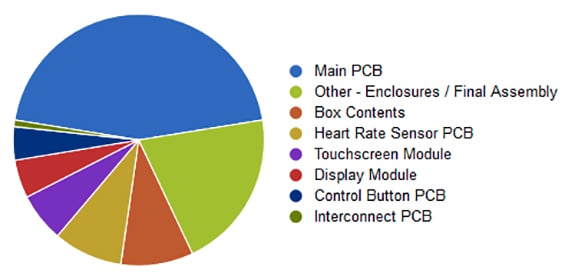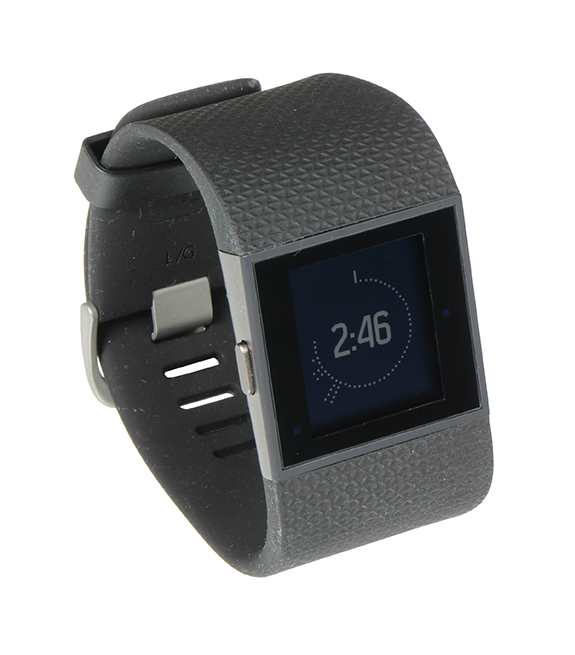 Device Overview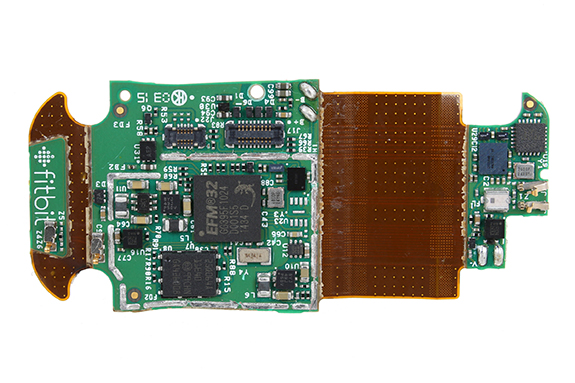 Main PCB Top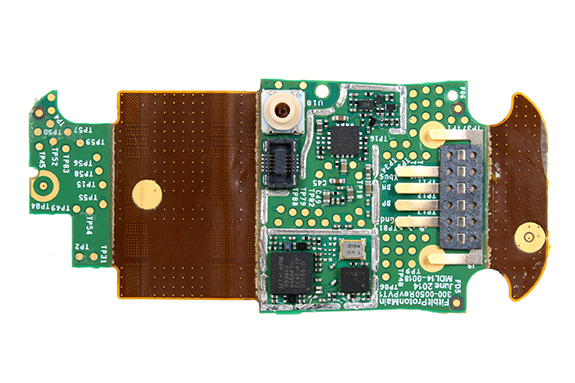 Main PCB Bottom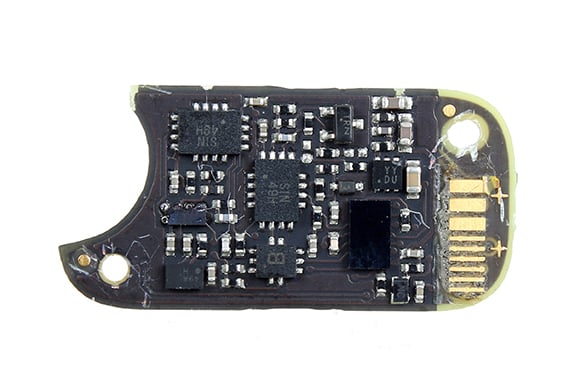 Heart Rate Sensor PCB Bottom