As mentioned in the previous article in this series, there are multiple levels of carrier aggregation or CA that enable different categories of LTE user equipment (UE) capability. Typically, the higher the level of CA, the higher category of LTE UE is supported. However, CA levels are determined by not only the number of carriers that can be aggregated but also the total bandwidth of those carriers. Assuming one of the more common modulation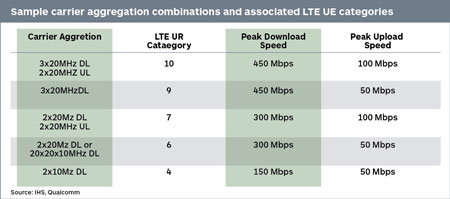 schemes being used (64-QAM), every 20MHz of aggregated bandwidth theoretically yields 150Mbps of throughput. While some still see CA as being early in its adoption cycle, primarily in the lower levels of CA such as 2x10MHz enabling Cat4 support, many will be surprised to learn of the scale and advanced state in which CA is already present in the market. In some cases, not only 2x20MHz or 3x20/20/10MHz CA enabling Cat 6 support is commercialized but Cat9 support is also being trialed. Due to this misconception, many device OEMs are still in the early stages of CA support and adoption even though mobile network operators (MNOs) are already deploying higher levels of CA configurations.
This misalignment between perception and reality has created an opportunity for industry participants willing and/or able to accelerate their CA strategies. In this series of article ,IHS will explore the current reality of CA adoption and some of the best ways to rapidly establish strong positions in the next generation LTE ecosystem.
Where is It Now?
In order to best understand the reality that is the advanced adoption of CA, a run-down of current mobile network deployment statistics would not run amiss. As such, below are some numbers from the Global mobile Suppliers Association or GSA: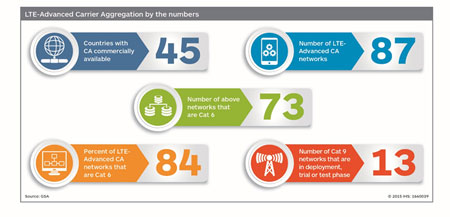 Clearly, Cat 6 CA is no longer a simple theoretical capability included in the standard but a commercially viable technology that is building scale. Aside from the numbers above, it is also worth noting that many of the 45 countries that have at least Cat 6 CA have multiple top tier operators within the country with the same or similar capability. This is important because it signals either a current or an upcoming high degree of competition between the operators in that country, which is a driver for growth opportunities for the value chain from component suppliers to device OEMs. Those countries that are experiencing this type of dynamic include but are not limited to:
Australia
France
Japan
Singapore
Another country to look out for is China. While the other countries mentioned above already have Cat 6 CA commercially launched with multiple MNOs, China is currently at the testing and deployment stage with not just one, but multiple of its top MNOs such as China Mobile, China Telecom and China Unicom. In the case of China Mobile, not only is Cat 6 progressing but also Cat 9. Both China Mobile and China Telecom are partnering with ecosystem players such as Huawei, Qualcomm, ZTE and Nokia. This stage in the adoption cycle is a critical point at which suppliers with applicable solutions can best establish themselves as leading players in the ecosystem. Many operators in these countries are starting to market these higher levels of CA using branding of services and devices as being greater than 4G. Some examples include 4GX, 4G Plus and A1 Speed with the operators using this type of branding to differentiate against competitors. China Telecom, for example, has launched its 4G+ services on August 1, 2015.
Is It Too Late to Hop On?
CA is being adopted and not only will it continue to do so but it is also gaining momentum. Given the current levels of adoption, this begs the question of whether or not it is too late to establish an early-to-market leadership position with the higher levels of CA that enable Cat 6 and above—especially as a device OEM.
While the operators are definitely leading the way in higher level of CA adoption, their ability to deliver the experiences and services that Cat 6 CA and above have promised depends on them successfully working with their device OEM partners to also deliver that capability. In looking at the operators who do have Cat 6 capability on their networks, most only have a handful of OEMs in their stable Cat 6 capable devices. For example, Telstra and Optus in Australia have six OEM partners but they are definitely in the minority. This is due to the fact that so far, only the top tier smartphone suppliers have commercially available Cat 6 devices. Consequently, now is a good time to accelerate support for Cat 6, especially to try to establish a strong foothold as a leading low- and mid-tier supplier. One way to do this is by choosing the right modem platform partner to utilize pre-certified reference design platforms to rapidly get a device to market. Couple this with the fact that some platform suppliers, due to their platform designs, are able to facilitate rapidly moving up to Cat 9 support and it becomes clear that picking the right modem platform supplier could mean the difference between catching not only the current Cat 6 adoption curve, but also being in a superior position as Cat 9 starts to commercialize.
Given the branding exercises mentioned above, being one of the first devices on stable MNOs that are greater than 4G devices will result in greater visibility, OEM brand awareness and establishing the brand with a bleeding edge reputation.
Where is It Going?
The MNOs that are starting to brand higher levels of CA as something greater than 4G LTE are just the beginning. IHS expects that given the higher speeds, lower latencies and greater spectral efficiencies associated with higher levels of CA, new use cases, applications and services will soon make Cat 6 and higher support-on devices such as smartphones requirements as opposed to "nice to haves".
In the next issue of LTE Carrier Aggregation Insights, IHS will explore what is next for CA and how do we, as an industry, build on the foundation that is being established now?
Related Article: