National Instruments (NI) has announced new embedded systems hardware based on the open, flexible LabVIEW reconfigurable I/O (RIO) architecture. The hardware includes a CompactRIO Controller, a high-performance option for integrators with rugged, industrial applications; a Controller for FlexRIO for designers with high-performance embedded applications; and a Single-Board RIO Controller for designers requiring greater flexibility in embedded applications.
The new controllers integrate Intel and Xilinx technologies for greater performance and flexibility, and to empower system designers and machine builders to address the most demanding control and monitoring challenges. The controllers are fully supported by LabVIEW software—the LabVIEW FPGA Module and NI Linux Real-Time—now based on Security-Enhanced Linux, enabling advanced security features for Industrial Internet of Things (IIoT) applications.
NI's platform meets IIoT rapidly evolving requirements by joining intelligent systems, connectivity and system-to-system communications, coupled with analytical software tools designed to deliver business insights and customer value.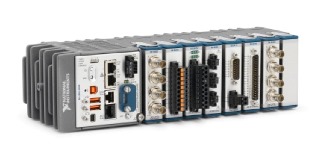 CompactRIO, FlexRIO and Single-Board RIO controllers enable smart industrial systems and machines much faster. Source: NI.com
Features for each controller include:
High-performance CompactRIO Controller:
Intel Atom processor
Kintex-7 FPGA
NI Linux Real-Time
Embedded UI
Secure Digital (SD) storage
Controller for FlexRIO:
Kintex-7 FPGA
Compact size
Dual-Core ARM processor
Single-Board RIO Controller:
Zynq system-on-a-chip (SoC) with NI Linux Real-Time
Optimized for industrial systems:
Code reuse
The IIOT is changing the way engineers work to deliver performance, security and rapid time to market. These controllers help to deliver the required performance and speed design time, while reducing costs.
Related Link: