Drones, or more formally known as unmanned aerial vehicles (UAVs), are turning up just about everywhere—figuratively and literally. From national news stories to products of all types in physical and online retail stores, it is hard not to notice an explosion of interest in these ubiquitous flying objects. Drones are in the air for anything that benefits from some distance from the subject—including archeological studies, land resource surveys, movie photography, and of course selfies.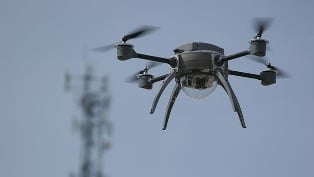 Drones are turning up just about everywhere, it is not hard not to notice them. Source: Wikipedia.comIf you have been living under a rock and this is all news to you, you might want to stay there for your own safety. At least, that is the impression you get from a seemingly unabated stream of stories about drone accidents and near-misses. If you are looking to get into the drone operation, then, a few facts and a lot of common sense could keep you from becoming the next news headlines.
Currently, the drone industry closely resembles the desktop computer industry; you can buy powerful, launch-ready UAVs off-the-shelf or you can build your own from an assortment of readily-available components. Furthermore, in the computer industry, the choice of buy vs build comes down to your objectives—whether you want to quickly get into exploring UAV applications or you want to fully understand how the pieces contribute to the whole.
The comparison between the computer industry and fast-growing drone industry stops there. However, building a UAV from scratch will most likely take you into whole new domains of knowledge—not just real-time systems engineering and mechanical engineering, but also basic aeronautical engineering issues such as thrust-to-weight, airfoil loading, center of gravity, and drag as well as related atmospheric science topics such as density altitude, wind gradient and convection.
Even if you buy an off-the-shelf drone, you will benefit from reading up on flight aerodynamics. Even for a small, battery-powered drone, to master the issues such as relative wind speed, airfoil lift and drag are important for understanding why on a day with calm winds, your drone burns through its battery charge more quickly in hover than when flying/moving.
What might surprise you is that regardless of your build-vs-buy decision and your level of interest in the aerodynamics of flight, you will need to become familiar with some basic civil aviation regulations and operating requirements. Internationally, drone usage is moving faster than regulations; basic rules from the days of radio-controlled hobby planes that are already in place, but both public-safety and privacy concerns are driving regulators to define rules for this fast-growing market.
In the US, the federal government—rather than state or local government—has exclusive sovereignty of airspace, and the Federal Aviation Administration (FAA) has the authority to prescribe air traffic regulations on the flight of aircraft, including drones (or in FAA terms, UASs, for unmanned aircraft systems).
The FAA segments UAS operators into a number of specific categories including manufacturers, government, non-government, and "individual/hobbyist." In simple terms, any usage beyond purely personal use will require at a minimum an airworthiness certificate (or waiver) for the drone itself, a pilot's certificate for the operator and FAA Section 333 approval.
If you are simply flying your drone "...for personal enjoyment...," according to the FAA, you need to follow only a few basic guidelines:
Fly below 400 feet and remain clear of surrounding obstacles
Keep the aircraft within visual line of sight at all times
Remain well clear of and do not interfere with manned aircraft operations
Do not fly within 5 miles of an airport unless you contact the airport and control tower before flying
Do not fly near people or stadiums
Do not fly an aircraft that weighs more than 55 lbs
Do not be careless or reckless with your unmanned aircraft—you could be fined for endangering people or other aircraft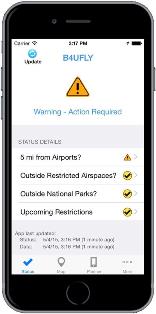 The FAA has created an app called B4UFLY to alert users to any restrictions of flying at the location they want to operate their UAS. Source: FAAIn reality, strictly following these rules requires some knowledge of the civil aviation airspace, which is filled with controlled, restricted, and special-use areas described in official aeronautical charts or distributed as Notices to Airmen (NOTAMs). In an attempt to help UAS operators to reliably comply with these restrictions, the FAA has created an app called B4UFLY. Currently in beta for iOS only, B4UFLY will alert users regarding any restrictions or requirements in effect at the location where they want to operate their UAS.
In September, the FAA will enact a final set of rules for non-personal UAS use, but the regulations for personal use will remain unaffected. Nevertheless, if you want to fly a drone in US airspace, you will need to adhere to the rules. Drones might be the ultimate selfie stick, but common sense and some careful attention to detail can keep your selfie out of the news.