Renesas Electronics has announced the smallest development kit in R-Car history—the ADAS Starter Kit. Designed to both simplify and speed ADAS applications, the kit is based on Renesas' high-end R-CAR H2 System on Chip. It provides enhanced computer vision performance with OpenCV and high-performances graphics power with OpenGLES.
The development kit measures only 10 x 10 cm and includes pre-implemented interfaces and peripherals. The core board comes with 2 GB of DDR3 RAM, 64MB of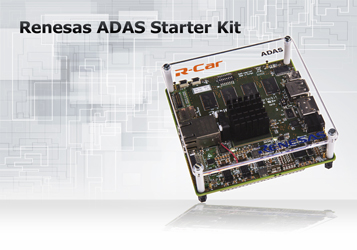 Renesas ADAS Starter Kit. Source: Renesas QSPI flash and a Micro SD card slot. It also features Ethernet, HDMI output and a connector for a camera module. The integrated extension connector supports PCI Express and other interfaces.
The Renesas R-Car H2 SoC delivers more than 25,000 DMIPS and provides state-of-the-art 3D graphics capabilities and powerful vision processing cores, powered by the ARM Cortex A-15 quad-core configuration that is also running an additional ARM Cortex A-7 quad-core. Additional features include the Imagination Technologies PowerVR Series6 G6400 Graphics Processing Unit (GPU) and support for up to four independent input camera channels, allowing easy implementations of 360° camera views and object recognition.
The kit is available for pre-order and shipping will begin in October 2015.
Related Links:
Yocto distribution and information on initial support is available at http://www.elinux.org.