We are looking for the next big application that demonstrates the full promise of the Internet of Things (IoT), even to the skeptics. Most likely, whatever the application is, it will need to combine autonomous sensors to extract immense amounts of data from the environment and use big data to mine the data for some information nuggets that can be used to 'wow' users. Massive nodes of autonomous sensing will need to be powered, but probably will require small enough amounts of power to use energy harvesting techniques such as solar, thermal, piezoelectric or some other energy generating technology. Perhaps less obvious is the possibility that this next big application is literally right under our feet.
Think of the increases in growing efficiency if there were soil sensors spread around a typical vineyard, orchard, or corn field. The soil could be sampled periodically for water, nutrients and other key growth indicators. The big data generated within the field, or even combined with other participating farmers in the same region, could be used to optimize the entire planting, growing, harvesting and fallow cycle over multiple years. This could result in the soil to be efficiently improved year over year (many farmers think of their jobs as building up healthy soil, and the crops are just what happens when you have good soil). How would such sensors be powered?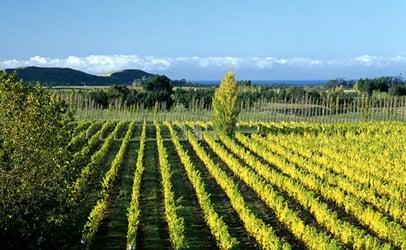 Soil characteristics are essential to wine production. Soil sensing and Big Data can make a difference. Image courtesy of Wine MarlboroughThere are two main alternatives to implementing soil sensors. One option is to create a mobile sensor that moves through the field and takes measurements as it traverses the field. This option is easily powered from traditional power sources. Static soil sensors distributed throughout a field use less traditional power sources, but luckily solar and thermal energy sources are readily available.
Thermal based electrical sources might be the best alternative for fixed sensor agricultural applications since the ground sensor (probably a 'ground wire') could be also used as a heat sink to generate the thermal difference needed by energy harvesting devices. Surprisingly, thermal sources can generate from 10's to 100's of uW/cm2 even with only around 10 degrees of temperature difference. Because the sensors need to make and report measurements a few times a day, only a small amount of energy is required. Even if wireless transmission and reception is used, which typically takes more energy than wired communications, thermal energy harvesting can supply the needed 'juice'. Excess power can be stored on a battery or super-capacitor and made available when it is needed.
Not all sensors need to be the same in this implementation. Some could also provide gateway or hub capabilities to aggregate sensor data using low power wireless protocols and then transmit bulk data to the central server. Perhaps a few hubs, in strategic positions, within the field could use solar power to generate the additional power needed to aggregate, store and communicate field data to the server. These sensors might also provide control over watering and nutrient delivery and the additional power needed to control valves and switches would be generated by solar harvesting. To optimize cost and functionality, there could be a hierarchy or sensors and controllers—each level having specialized functional requirements and thus using different energy harvesting technologies.
Research and implementation of this type of IoT application are accelerating. Some electromagnetic sensors are already available and when used in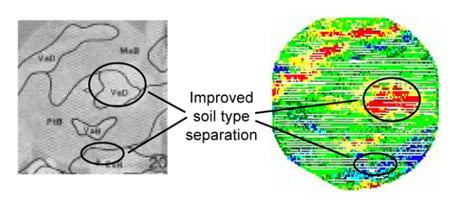 Electrical conductivity map showing boundary differences. Graphic courtesy of the University of Nebraska at Lincolnmobile equipment can help create soil 'maps' that can be used to compare with existing soil surveys. The University of Nebraska at Lincoln CropWatch program on the right, compares the sensor readings with the soil survey divergences, showing that the issue can be quickly spotted and corrective action can be taken to minimize erosion or soil depletion. Static sensors measurements could create the new baseline with periodic soil surveys only used for periodic sensor calibration readings.
Imagine the possibilities if large amounts of soil and environmental data could be combined, in real time, to optimize all the steps in the farming cycle. Huge amounts of water could be saved, nutrient delivery could be optimized based on microweather patterns to reduce cost, harvesting times could be selected for the best return, soil erosion could be reduced to help retain and grow healthy soil, farmers could have access to historical data that would help them better manage their entire business. The result is that, everyone benefits from a more efficient agricultural system with reduced food costs and improved quality.
Can you think of any other IoT application that could deliver similar benefits to such a large fraction of the population? There might be some health related applications that could reach a similar percentage of the population, but the perfect storm of sensors, energy harvesting and big data will dramatically improve farming efficiency while building healthy soil.