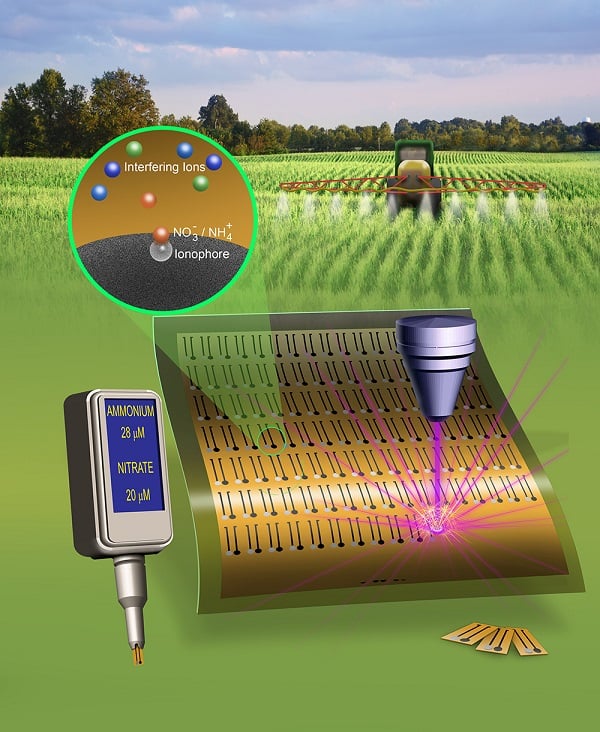 Engineers are developing a system of low-cost, flexible, graphene-based biosensors connected to wireless networks that enable rapid monitoring of nitrogen levels throughout a farm field. Source: Robert Gates
Excess fertilizer application from farm fields results in nitrogen runoff that causes drinking water contamination and algal blooms. Nitrogen soil models can help farmers reduce fertilizer use by knowing exactly what type of fertilizer to use and when and where to apply in a field. The accuracy of most soil models is relatively poor because soil nitrogen concentration data acquired at numerous points within a field is cost prohibitive and technically challenging.
Researchers from Iowa State University and the University of Florida are developing low-cost, flexible sensors to be deployed in wireless networks for improved data collection and remote analysis. The bury-and-forget nitrogen sensors will be coupled with remote sensing technologies for real-time analysis of soil health.
Inkjet-printed and laser-treated graphene circuits will form the core of the sensors developed to detect ammonium and nitrate ions in soil. Plans call for testing the equipment in soils surrounding tomato plants to acquire high-resolution spatial and temporal nitrogen data for improving soil nitrogen models that can be of value to farmers. Such sensor networks and resultant models are expected to lead to precision agriculture where fertilizers are spread onto specific locations of the field in a measured fashion only when needed.