Moore's Law recently turned 50 years old and looking back on it, the observation that transistors would decrease in cost and increase in performance at an exponential rate had a profound effect on the semiconductor industry leading to trillions of dollars being added to the global economy and changing the way humans interact with electronics forever.
In a new report, entitled "Celebrating the 50th Anniversary of Moore's Law," IHS examines how the activity predicted by Gordon Moore in an article published in April 1965 not only drove technological change but created huge economic value and social advancement. Furthermore, ongoing innovation, invention and investment in technology will continue to enable advances along this same path in the future, IHS says.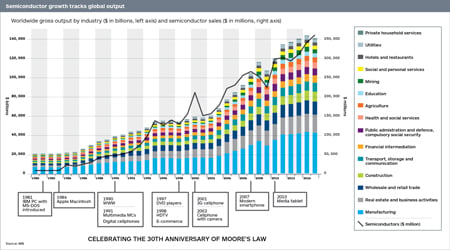 (Click to enlarge) Moores Law activity has contributed a full percentage point to real GDP growth every year between 1995 and 2011. Source: IHS"Fifty years ago, Moore defined the trajectory of the semiconductor industry, with profound consequences that continue to touch every aspect of our day-to-day lives," says Dale Ford, vice president and chief analyst for IHS. "In fact, Moore's Law forecast a period of explosive growth in innovation that has transformed life as we know it."
IHS says that an estimated $3 trillion of value has been added to the global gross domestic product (GDP) as well as an additional $9 trillion of indirect value in the last 20 years due to the pace of Moore's Law. That law states the quantity of transistors that can be included into a single chip would approximately double every 18 to 24 months. This value is more than the combined GDP of France, Germany, Italy and the U.K., IHS says.
IHS speculates that if Moore's Law had slowed to every three years rather than every two years, technology would only have advanced to 1998 levels—smartphones would be nine years away, the Internet would be in its infancy and social media would be minimal.
Ford says Moore's Law has proven to be the best predictive tool in the last half-century of technological innovation, economic advancement and, as a result, social and cultural change. "It has implications for connectivity and the way we interact, as evidenced by the way social relationships now span the globe," Ford says. "It also provides insight into globalization and economic growth, as technology continues to transform entire industries and economies. Finally, it reveals the importance of how sustainability affects life on Earth, as we continue to transform our physical world in both positive and negative ways."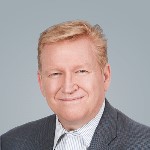 Not even Gordon Moore himself predicted the blistering pace of change for the modern world, says Dale Ford of IHS.IHS says Moore's Law activity has contributed a full percentage point to real GDP growth, including both direct and indirect impact, every year between 1995 and 2011, equating to 37% of global economic impact. The result of advanced digital technology include:
40% of the world's households have high-speed Internet, compared to less than 0.1% in 1991.
Up to 150 billion incremental barrels of oil could potentially be extracted from discovered global oil fields.
Researchers can now perform 1.5 million high-speed screening tests per week—up from 180 in 1997—allowing for the development of new materials such as bio-fuels and feedstock for plant-based chemicals.

"Not even Gordon Moore himself predicted the blistering pace of change for the modern world," Ford says. "While it is true most people have never seen a microprocessor, every day we benefit from experiences that are all made possible by the exponential growth in technologies that underpin modern life."
The new report on the 50th anniversary of Moore's Law is available as a free download from IHS.
Questions or comments on this story? Contact [email protected]
Related links:
Celebrating the 50th Anniversary of Moore's Law
IHS Semiconductors and Components
News articles:
Altera Releases Stratix 10 FPGA Details
Microsemi Introduces Automotive-Grade FPGAs
Silicon Nanowire Remains Favorite to Replace FinFET
Cadence Receives Certification for TSMC's 16nm FinFET Process