Nantero Inc. (Woburn, Mass), a private company that has been developing carbon nanotube (CNT) based nonvolatile memory since 2001, says its technology is now installed in two of the top five foundries in the world. It is also licensing its intellectual property (IP) to a dozen customers, including major chip manufacturers, foundries and electronic systems companies.
Nantero has revealed itself to be a contender in the race to find a universal nonvolatile memory to replace DRAM and NAND flash as critical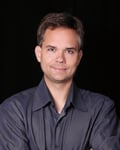 Greg Schmergel, CEO and co-founder of Nantero.dimensions go below 20nm. Competing technologies include multiple forms of resistive RAM based on metal-oxide layered structures.
Nantero is also sampling 4Mbit nonvolatile random access memory (NRAM) ICs to help licensees and potential licensees with the design of their next-generation devices. The technology is being touted as both a storage class memory and as a replacement for flash and DRAM. These samples are also helping to develop NRAM as a nonvolatile memory option in 28nm system on chips (SoCs), the company's CEO and co-founder, Greg Schmergel, tells Electronics360.
Nantero is pursuing an IP licensing business model similar to that of processor licensor ARM Holdings plc. Schmergel says the production phase has begun with partners and licensees designing products and with IC tape outs expected within 18 to 24 months.
As an IP licensing company, Nantero has invested for many years in applying for patent coverage. The company claims to have the world's leading CNT electronics patent portfolio with more than 175 US patents issued so far and more than 200 patents pending.
A CNT sandwich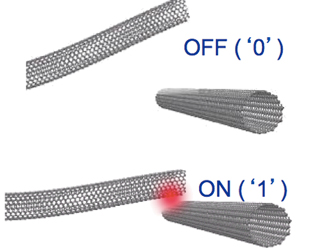 CNTs are attracted electrostatically, remain attached via Van der Waals forces and are separated via phonon excitation (heating) via a current pulse. Source: Nantero.The CNT memory cell consists of a thin film made of a matrix of CNTs sandwiched between metal electrodes. When a voltage is applied to the cell, many of the rod-shaped CNTs, which are separated from one another, adhere together due to atomic-scale forces. This increases the number of conductive paths between the electrodes and lowers the resistance. A reset pulse is used to break the bonds and return the matrix to its high resistance state.
The resulting memory offers memory cell switching speed of 20-picoseconds—faster than the select circuitry—at low-energy together with endurance of the order of 1011 cycles and high temperature reliability—10 years data retention at 300 C or 1,000 years at 85 C, according to technical papers presented by Nantero. This holds out the prospect that CNT-based NRAM can be a universal memory to replace both DRAM and NAND flash memory.
NRAM is about the same speed as DRAM and about 100 times faster than NAND flash. It is also CMOS compatible, requiring only one additional mask to define the pattern on the wafer of the thin layer of CNT material. This makes it a low cost adder for embedded NVM and suitable for multilayer stacking for memory components. Although the 4Mbit memory components now sampling were made using 110nm critical dimensions, Nantero has a design team in Silicon Valley, led by Lee Cleveland, vice president of design, working on a multigigabit device as part of support for licensees.
Although most of the development work is currently somewhere between 20nm and 30nm, Schmergel is confident that the CNT technology can scale to critical dimensions as small as 5nm.
"For embedded NVM the most intense interest has been at 28nm and below, with some at 40nm," Schmergel tells Electronics360. He adds that the technology would debut as a single-bit per memory cell in a single plane. This would be followed by multilayer NRAM and then by multi-level NRAM cells that store multiple bits per memory cell.
Nantero has closed a Series E financing round worth $31.5 million (see Nanotube Memory Startup Snags $30 Million in Funding), bringing the total raised by the company to more than $78 million. The most recent round included new investors and participation by existing investors, including Charles River Ventures, Draper Fisher Jurvetson, Globespan Capital Partners, and Harris & Harris Group. The company also has "a handful" of strategic investors according to Schmergel. He declines to name them, though Schmergel himself was named as a strategic investor as part of a $15 million Series D round of equity finance announced in 2013.
When asked to define "handful," Schmergel says "more than three and less than six."
Nantero has also added two members to its advisory board: Stefan Lai and Yaw Wen Hu. Lai was previously with Intel, where he co-invented the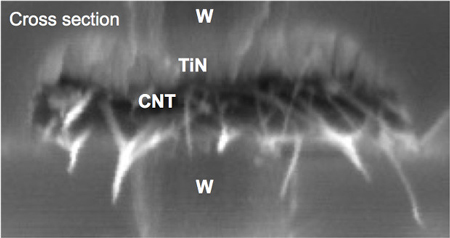 CNT matrix contained within vertical contact. Source: NanteroEPROM tunnel oxide (ETOX) flash memory cell and led the company's phase change memory (PCM) R&D team. Hu has been an executive vice president and is a board member of Inotera Memories, where he oversaw DRAM technology transfer and development of wafer-level packaging. Before that, Hu was an executive vice president and chief operating officer for Silicon Storage Technology (SST), where he was responsible for SuperFlash technology development.
Five more years to wait?
"The industry is already starting to feel the effects of current memory technologies hitting performance roadblocks and not being able to scale further," says Michael Yang, senior director of memory and storage for IHS Technology. "Nantero's NRAM is in a strong position to fill this void, allowing manufacturers to provide new storage architectures and to design smaller, faster and more innovative products packed with massive amount of storage."
However, despite Nantero's assertions that the NRAM has been made in no fewer than seven commercial wafer fabs, questions remain on how easy or difficult the technology will be to manufacture. "Only the engineers know that," says Yang.
"In my experience, it will be a long time for all the infrastructure to be in place to allow competition against existing products," Yang says. "We will have to see who signs licensing agreement and actually enters production. Then we can make a proper projection. I put it at 5 years out."
But Yang says the IP licensing approach was necessary for Nantero, a 15-year-old company that is still effectively a startup. "Mass production takes billions of dollars. Without selling something first generating millions of dollars, there are no billions to invest. It's a necessary first step for any 'small' company," Yang concludes.
Questions or comments on this story? Contact peter.clarke@ihs.com
Related links:
News articles: