After 39 years at the helm of electronic components distributor Digi-Key, Mark Larson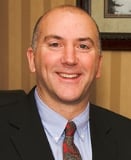 Dave Doherty to be named president and chief operating officer at electronic components distributor Digi-Key. Image source :Digikey plans to step down effective July 1.
Larson will be succeeded by Dave Doherty, currently Digi-Key's executive vice president of operations.
Larson will continue with Digi-Key in a board level role, serving as vice chairman.
Since joining Digi-Key in 1976, Larson has led the company's growth from $800,000 in annual sales to $1.76 billion. In that time, the Thief River Falls, Minn.-based company has grown from just 14 employees to more than 3,400 globally.
Larson was inducted in the IDEA Hall of Fame in 2013, Minnesota Business Hall of Fame in 2014 and, in 2014, he received the Gail S. Carter Award in recognition of his lifetime achievements and contributions to the electronics industry.
"It's certainly been an amazing ride," Larson says.
Questions or comments on this story? Contact dylan.mcgrath@ihs.com
Related links:
IHS Semiconductors & Components
News articles:
-