Field programmable gate array (FPGA) vendor Xilinx Inc. is the first company to publicly announce it will use 7nm advanced process technology from Taiwan Semiconductor Manufacturing Co. Ltd. (TSMC).
Earlier this month, TSMC rolled out plans to begin 7nm risk production starting early in 2017, with volume production expected by the fourth quarter of that year. At the time, TSMC said it was already working with several major customers.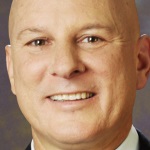 Moshe GavrielovThe 7nm node will mark the fourth consecutive technology generation that Xilinx has contracted with TSMC to produce wafers. Xilinx has used TSMC to produce wafers at the 28nm, 20nm and 16nm nodes.
The 7nm node will be TSMC's fourth generation of FinFET technology.
In risk production, TSMC's clients are running complete circuits—rather than test structures—but potentially still making changes to the process and/or the design to optimize performance and improve yield.
Moshe Gavrielov, Xilinx president and CEO says in a statement that the company's collaboration with TSMC has transformed the FPGA company's product portfolio. "TSMC's 7nm technology will be even more transformative for Xilinx," Gavrielov says.
Questions or comments on this story? Contact dylan.mcgrath@ihs.com
Related links:
IHS Semiconductor Manufacturing
News articles: