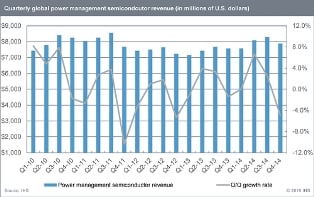 Quarterly global power management semiconductor revenue (in millions of US dollars). Source: IHS TechnologyThe market for power management semiconductors is set to grow by up to 7% in 2015, the same level of growth it achieved in 2014, according to IHS Technology's Power Management Competitive Landscaping Tool (PMCLT).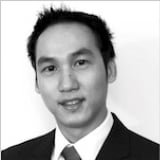 Jonathon Liao, senior analyst power semiconductors for IHS.The IHS definition of power management semiconductors is broad. "Power IC is just part of the power management semiconductors covered in this service. Discrete and module products such as IGBT, MOSFET, power rectifiers are also included in the final revenue numbers," says Jonathan Liao, senior analyst of power semiconductors for IHS.
IHS expects the market, worth nearly $32 billion in 2014, to grow between 5 and 7% in 2015.
The competitive landscape of the market is set to change in 2015 following two significant acquisitions. In January, Infineon completed the acquisition of International Rectifier. Later this year, NXP is scheduled to complete its acquisition of Freescale Semiconductors. The acquisitions will enable both Infineon and NXP to seek economies of scale in manufacturing and administrative costs.
As a result of the acquisitions, there will be strong competition for the No. 1 ranking in power management semiconductors this year, IHS says.
The market increase in 2014 was driven by demand for power semiconductors in the automotive and industrial end markets in sub-sectors such as powertrain, advanced driver assistance systems (ADAS), automation, energy generation and distribution. However, consumer end market, computing and communications showed weaker demand for power semiconductors in 2014.
"Companies that aligned their marketing and investment strategies to address industrial and automotive applications performed very well in 2014," says Liao, in a statement. "Texas Instruments, Analog Devices, NXP and Infineon were some of the growth leaders with strong product portfolio offerings in the industrial and automotive categories. By capturing growth momentum and outshining their competitors, these companies increased their power management revenues more than 10%in 2014."
China was the largest geographical market for power management semiconductors in 2014, taking 30% of those shipped, due to the high concentration of original equipment manufacturers.
"To ensure continued growth, successful companies must focus on the industrial and automotive end markets in the near term," says Liao.
Some of the top growth industrial segments in the near term are LED lighting, Internet protocol cameras, digital video surveillance products and smart-grid solutions. While in the automotive industry, connected cars, ADAS, infotainment, as well as the electrification of the car, are expected to have a near-term increase.
Questions or comments on this story? Contact: peter.clarke@ihs.com
Related links and articles:
IHS Power Management Intelligence Service
Power Management Competitive Landscaping Tool (PMCLT).
News articles: