Microcontroller vendor Microchip Technology Inc. launched a single-phase power-monitoring IC designed for the real-time measurement of AC power.
Microchip (Chandler, Ariz.) says the device, known as the MCP39F511, combines popular power calculations with advanced features for use in high-performance commercial and industrial products such as lighting and heating systems, smart plugs, power meters and AC/DC power supplies.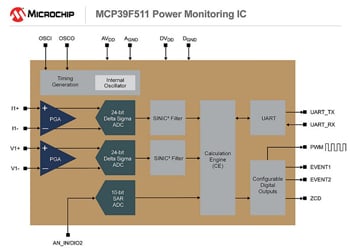 The MCP39F511 power management IC. Source: MicrochipBryan J. Liddiard, vice president of marketing for Microchip's Analog and Interface products division, says that the MCP39F511 is an ideal complement to Microchip's energy measurement portfolio.
"We listened to our customers' feedback and added the most requested features to better support engineers in their next generation of designs, including power-hungry applications such as data centers and advanced applications such as smart energy and the growing Internet of Things," Liddiard says.
The MCP39F511 is supported by Microchip's MCP39F511 Power Monitor Demonstration Board (Part # ADM00667), which is available for $150, Microchip says.
It is now in sampling and volume production, in a 28-lead, 5x5 mm QFN package, and priced at $1.82 per unit in 5,000-unit quantities.
Questions or comments on this story? Contact [email protected]
Related links and articles:
IHS Technology Power Semiconductors Page
News articles: