The market for 4G Long Term Evolution (LTE) mobile broadband and high-speed broadband availability soared last year in the European Union as a result of increased accessibility to VDSL and FTTP, according to new research from IHS in conjunction with the European Commission (EC).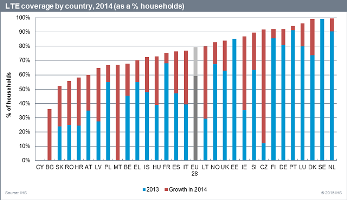 4G LTE mobile broadband was the fastest growing high-speed technology in Europe in 2014. Source: IHS4G LTE mobile broadband was the fastest growing high-speed technology in Europe in 2014 becoming available to 79.4% of European Union member states—a 20% increase from 2013, IHS says. Meanwhile, next generation access (NGA) broadband coverage reached 68.1% coverage last year, making high speed broadband services available to 15.5 million more people than in 2013.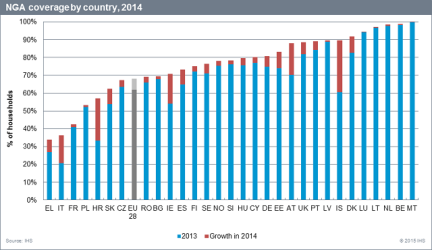 Next-generation-access broadband coverage reached 68.1% coverage in 2014. Source: IHS"Denmark, Netherlands and Sweden lead the European Union, with 99% of households covered by LTE," says Alzbeta Fellenbaum, senior analyst at IHS, in a statement. "Other countries with outstanding performance in LTE coverage also include the Czech Republic and Malta, which saw an increase in coverage from 12% to 91.9% and from no coverage to 67%, respectively."
The growth in NGA broadband is the result of very-high-bit-rate digital subscriber line (VDSL) coverage, which grew by more than 7% in 2014 to reach 37.6% in EU member states. Growth was also seen in fiber-to-the-premises (FTTP) with services available now to 18.7% of EU households, IHS says. Baltic countries lead the charge in FTTP availability with Lithuania and Latvia being the two countries with the highest coverage for FTTP reaching nearly 95% and 83.2% of households, respectively.
Fellenbaum says the most significant increases for VDSL were in Denmark, Austria and Iceland "all reporting increases in VDSL coverage exceeding 30 percentage points."
IHS says that fixed broadband coverage remained the same last year as in 2013 at 97%, showing a slowing trajectory as the EU focuses more on NGA and mobile technologies. Rural fixed broadband also remained at its 2013 level of 89.6% but the availability of NGA technologies in these areas increased to 25.1% in 2014 up from 18.1% in 2013.
Questions or comments on this story? Contact engineering360editors@ihs.com
Related links:
News articles:
LTE Mobile Infrastructure Revenue to Peak in 2015
Lantiq Helps Intel Build Connected Home Division
Nokia to Buy Alcatel-Lucent for Networking Scale