Global photovoltaic (PV) capacity is forecast to reach new heights over the next five years, boosted by a reduction in market volatility and an increase in global demand, according to new research from IHS.
Solar capacity is expected to grow to 498 gigawatts (GW) by 2019, up 177% from 2014, IHS said. The projected growth is the result of a shift to a more supply-driven market with higher utilization rates, as opposed to the more demand-driven market that has led to PV manufacturing consolidation.
The trend is expected to continue through 2019, when the utilization rate is projected to exceed the peak reached in 2010, said Susanne von Aichberger, IHS solar industry analyst, in a statement.
Global solar demand in 2019 is forecast to reach 75 GW, 66% higher than in 2014. In the next five years, 11 global markets will exceed the average annual demand level of 1 GW, Von Aichberger said.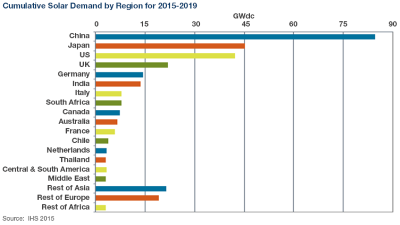 "This large number of country markets reduces the risk of another explosion in the global PV market and of an overly strong capacity build-up," von Aichberger said. "An increasing number of markets are entering the post-feed-in-tariff phase and embracing the integration of PV into the electricity market, which will help the market to avoid boom-and-bust situations."
Average selling prices of standard c-Si modules are set to decline by 27% between now and 2019, decreasing to $0.45 per watt, according to the IHS forecast. The market share of thin-film modules is projected to decline to 7%this year, down from 8% in 2014, IHS said. This would represent the lowest market share since 2010, when a shortage opened the door for thin-film technology to reach a production share of 15%.
Questions or comments on this story? Contact peter.brown@globalspec.com
Related links:
News articles: