Revenue for photovoltaic (PV) modules from the leading 20 global suppliers increased in the fourth quarter of 2014 12 percent year-over-year driven by growth in total shipment volume, according to a new report from IHS Technology.
Revenues in the fourth quarter of 2014 increased to $5.9 billion, reaching 8.8 gigawatts (GW), as shown in Figure 1. For the full year, solar module revenue grew to $21.4 billion, IHS said. Total module shipments from these suppliers represented 68 percent of the global PV module demand in 2014, compared to 60 percent in 2011. Alone, Trina Solar and Yingli Green Energy shipped more than 3 GW of modules last year.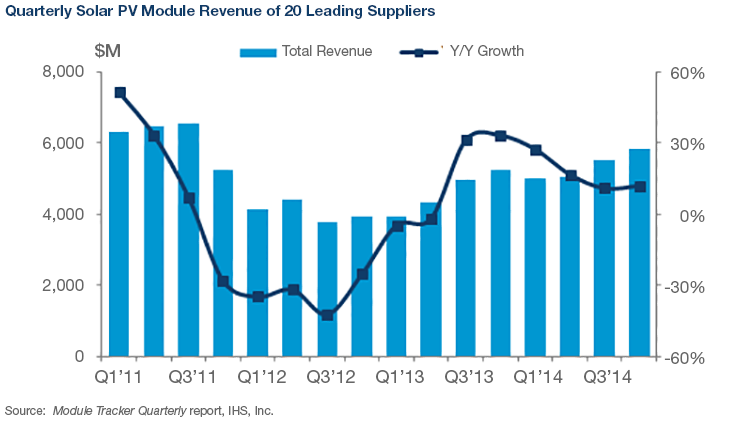 IHS reports that revenues for solar modules in the fourth quarter reached $5.9 billion.
Ray Lian, principal analyst for IHS Technology, said in a statement that in order to fun capacity expansion or acquisitions, "PV module suppliers must continuously increase their revenues." He added that if companies want to gain more market share "we can expect to see further industry consolidation."
Average selling prices (ASP) for modules declined in the fourth quarter of 2014 as a result of the strong appreciation of the U.S. dollar against most other currencies as well as increased shipments of modules to China and other low-ASP regions. For the Top 20 leading PV module suppliers, ASPs decreased 4 percent in the quarter, IHS said.
However, the decline in ASPs was reduced because of cost reduction efforts and increased module efficiency improvements.
Looking ahead to 2015, Lian said the 20 leading module suppliers will continue to grow thanks to global PV demand and increasing market share. In fact, Lian said module suppliers will "reach historic revenue heights" as early as fourth quarter.
Questions or comments on this story? Contact dylan.mcgrath@ihs.com
Related links:
News articles:
China's Solar Module Market Booming, but Shortage Looms
PV Equipment Bookings, Billings Declined in Q3
Top 10 Solar Module Rankings to Change in 2014
SunEdison Enters the Wind Market