Semtech Corp. has acquired wireless charging and power management provider Triune Systems LLC to bolster its capability to bring wireless charging power platforms to market.
In a deal worth about $45 million, Triune's 35 employees will be absorbed into Semtech and Ross Teggatz, founder and CEO of Triune, will join Semtech as senior vice president and general of the Power management and High-Reliability product group. The acquisition will give Semtech multi-standard wireless charging platforms that will be added to its own power management portfolio as well as an isolated switching platform.
Triune Systems' wireless charging products are currently offered at power levels from 0.1W to 20W, but the company is also in the prototyping stage on a 100W product. The isolated switching platform is targeted at home automation and other industrial markets designed to replace larger, less efficient solid state and mechanical relays.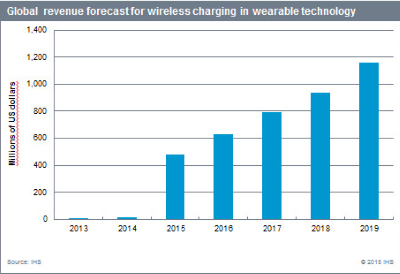 IHS forecasts that wireless charging for the wearables market will grow to $480 million this year and to more than $1 billion by 2019.Wireless charging is expected to grow significantly over the next five years. Revenue from wireless charging applications in the wearables market alone is projected to grow to become a billion dollar market by 2019, up from just $15 million in 2014, according to IHS Technology. In 2015, revenue from wireless power receivers and transmitters in wearable applications is forecast to surge to $480 million—an expansion of 3,000 percent from 2014, according to IHS.
Under terms of the agreement, the acquisition will consist of $35 million cash paid at closing of the deal with an additional cash consideration of $10 million to be paid in six months, contingent upon the achievement on financial goals.
The acquisition would be Semtech's second company grab already this year after it snatched up EnVerv, a power line communication and smart grid technology supplier, in January.
Questions or comments on this story? Contact peter.brown@globalspec.com
Related links:
News articles: