The Embedded Microprocessor Benchmark Consortium (EEMBC) industry body Thursday (Feb. 26) launched a new benchmark for processors and the systems they operate within called the CoreMark-Pro.
The original CoreMark was developed by EEMBC (Eldorado Hills, Calif.) and proved to be a popular replacement for the previously oft-cited Dhrystone. However, since CoreMark's creation in 2009, processors have increased in capability, now use greater memory resources and are often deployed in multicore arrangements. This gave rise to the need for a CoreMark upgrade, according to Markus Levy, EEMBC president.
While the CoreMark exercises the CPU pipeline, CoreMark-Pro is designed to test the entire processor adding comprehensive support for multicore technology, a combination of integer and floating-point workloads, and data sets for utilizing larger memory subsystems.
The CoreMark-Pro has five integer and four floating-point workloads in contrast to four functions within the original CoreMark. "Developers can pick and choose which workloads they want to run but the CoreMark-Pro score is a single figure that is the summation of all the workloads," Levy said.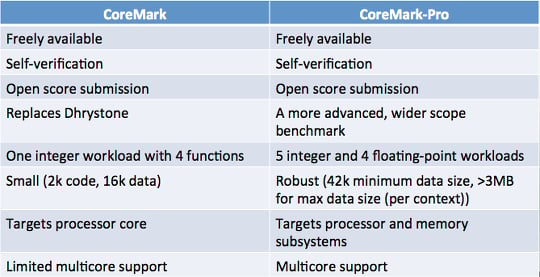 CoreMark-Pro compared with CoreMark. Source: EEMBC.
The integer workloads include JPEG compression, Zip compression, an XML parser, the SHA256 Secure Hash Algorithm, and a more memory-intensive version of the original CoreMark. The floating-point workloads include a fast-Fourier transform, a linear algebra routine derived from Linpack, an improved version of the Livermore Loops benchmark, and a neural-net algorithm to evaluate pattern recognition.
"Together, the workloads in CoreMark-Pro represent a wide diversity of performance characteristics, memory utilization, and instruction-level parallelism," said Rajiv Adhikary, senior software engineer at Analog Devices and chair of the EEMBC CoreMark-Pro working group, in a statement. "This benchmark is guaranteed to highlight the strengths—and weaknesses—of any processor."
Since the greater scope of the benchmark implies that scores will be dependent on the memory subsystem, it's possible that a processor or SoC may score differently in different contexts. The EEMBC has published some early results for CoreMark-Pro that lists them by host smartphone or tablet as well as by application processor.
The CoreMark-Pro could also be used to test general purpose computing on GPUs, although it has not been specifically framed to do that, Levy said. "C source code is how the benchmark is provided," he said. "If the C code can compile and run on the GPGPU or a processor that supports SIMD [single instruction multiple data] operations that it can be benchmarked."
Companies with employees involved in the working group included: Analog Devices, AMD, ARM, Cavium, Imagination, Intel, Lockheed-Martin, Marvell Semiconductor, Qualcomm and Synopsys.
As with the CoreMark before it, the CoreMark-Pro is freely available, performs self-verification to ensure accurate results, and supports a process whereby users can submit their scores to the EEMBC website. However, a $2,500 licensee fee is required to publish the results for any sort of marketing purposes.
Questions or comments on this story? Contact peter.clarke@globalspec.com.
Related links: