Fabless chip company Marvell Technology Group Ltd. (Santa Clara, Calif.), which has expanded from networking, hard disk drive and micro-server processors to mobile processors continues to push hard on the heels of Qualcomm and has launched two more devices in its PXA19XX series of LTE-integrated mobile processors.
Marvell is still one of relatively few companies that has successfully integrated modem baseband technology with multicore application processors.
Top of the range and Marvell's latest addition is the octacore 64-bit Armada PXA1936 targeting high performance smartphones and tablets. Manufactured in 28nm CMOS it features eight Cortex-A53 cores, security and sensor fusion functions and operates at up to 1.5GHz clock frequency. It also integrates the satellite location baseband, something that in previous generations of smartphone processor from Marvell was in a separate supporting chip (see Marvell Includes LTE in 64-bit Apps Processor).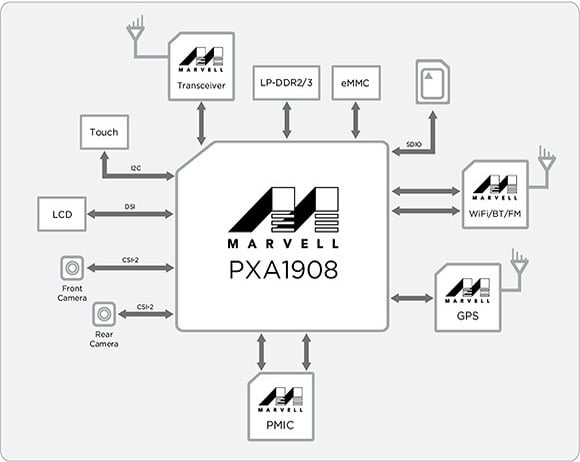 PXA1936 integrates much and keeps it simple off-chip. Source: Marvell.
Back filling Marvell's 64-bit range is a quad-core Cortex-A53 part, the PXA1908, that is cost-optimized and operates at up to 1.2GHz clock frequency.
Marvell stresses that the PXA1936 and PXA1908 both provide a 5-mode modem for worldwide access on 4G/3G/2G via TD-LTE, FDD-LTE, TD-SCDMA, WCMDA and GSM. They also maintain software compatibility so vendors can launch two mobile phones one after the other and with a common software base.
No room for ARM or Imagination graphics
Marvell has stayed with Vivante Corp. (Sunnyvale, Calif.) has its graphics processing IP provider. In the previous generation PXA1928 it was the GC5000 graphics processor licensed from Vivante. The GPUs used in the 1908 and 1936 are the GC7000UL and the GC7000L, respecitvely.
The PXA1936 includes a sensor hub and supports 1080p display and video encoding and decoding as well as 13 to 16 megapixel image sensors. The PXA1908 supports more modest camera sizes of 8 to 13 megapixels, a 720p display and does not include the sensor hub.
Both processors will be available for the smartphone and tablet computer market soon and are expected to ship in devices early in 2015.
Related links and articles:
News articles:
Marvell Hit With $1.54 Billion Fine
Marvell Includes LTE in 64-bit Apps Processor
HiSilicon Launches Octacore Smartphone Chip with LTE