While giving a keynote speech to the Consumer Electronics Show in Las Vegas Intel CEO Brian Krzanich showed off a button-sized module called Curie that will be part of the company's foray into wearable equipment. The module is based on Intel's first system-on-chip (SoC) that has been purpose built for wearable devices, the Quark SE.
However, the wirelessly enabled module has not yet received approval from the Federal Communications Commission and such cannot yet be sold in the US market. It is not expected to ship until the second half of 2015, which is likely to put Intel behind competition from Qualcomm and others.
Qualcomm moved to acquire CSR plc in a $2.5 billion in October 2014 and this gives the company the chance to match its low-power Snapdragon mobile processors to CSR's Bluetooth chipsets, which work with Android Wear devices and smartphones.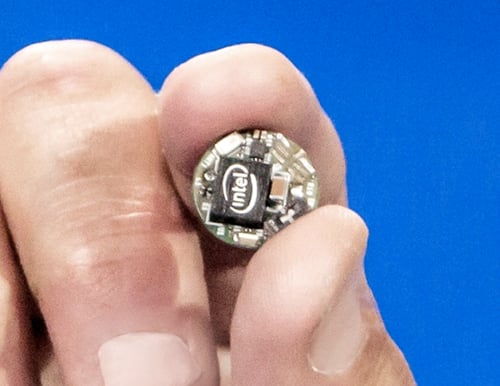 A wireless sensor node the size of a button - but until the 2H15. Source: Intel.
The Curie module is intended for wearable equipment in the form of bags, rings, bracelets, pendants, fitness trackers and even to things as small as a button, Intel said. It includes the 32bit Quark SoC with 384kbytes of flash, 80kbytes of SRAM, a DSP sensor hub and a pattern-matching accelerator. There is also a Bluetooth low energy transceiver, 6-axis inertial MEMS sensor and battery charging power management IC.
The pattern classification engine allows the wireless sensor node (WSN) to identify different motions and activities to determine the likeliest context. Others sensors on a companion board, such as humidity, gas and ambient temperature could be linked to the Curie button to make use of this capability.
Intel is also providing software that includes a lightweight real-time operating system (RTOS) and reference wearable applications called IQ software kits. The software is designed to run on the Curie module and communicate with companion smartphone applications and Cloud capabilities, Intel said.
"With the Intel Curie module Intel will continue to push the envelope of what's possible and enable companies to quickly and effectively build low-power wearables in various form factors," said Mike Bell, general manager of Intel's new devices business group
CEO Krzanich showed off the Curie button during a keynote during which he also unveiled a collaboration with sunglasses brand Oakley. Colin Baden, CEO of Oakley, joined Krzanich on stage and said the companies are working on an intelligent product, available later this year, designed to enhance athletes' performance.
Krzanich went on to say that Intel will hold a "Make it Wearable" challenge for a second year in 2015. The winners of the first such challenge were Nixie Labs Inc. (Los Altos, Calif.), a startup which is developing a wearable camera that can fly with the aim of taking a better selfie-photograph.
During the same keynote Krzanich announced Intel plans to invest $300 million to help build a pipeline of female and under-represented engineers and computer scientists; to actively support hiring and retaining more women and under-represented minorities; and to fund programs to support more positive representation within the technology and gaming industries.
Questions or comments on this story? Contact dylan.mcgrath@ihs.com
Related links and articles:
IHS semiconductor value chain research
News articles:
Intel Invests $25 Million in Smart Glasses Vendor
Sony Develops Google Glass Competitor
Qualcomm Grabs CSR For $2.5 Billion
Intel In Cool Google Glass Will Deserve Kudos