A research team from the University of Washington has successfully embedded a light emitting diode (LED) in a contact lens and powered it up wirelessly, bringing closer the possibility of an eye-up display.
The research team has reported on demonstrating the safety of a prototype in the eye of a rabbit. At present it is just a single pixel display but the researchers say such contact lens could be worn by humans and that eventually a multipixel display could present short emails and other messages in front of the wearer's eye or eyes.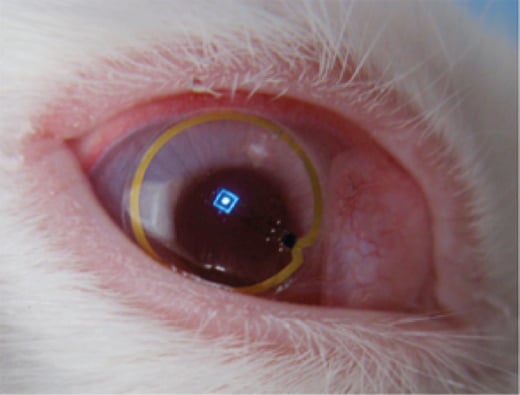 Single-pixel display embedded in contact lens on the eye of a rabbit. Source: University of Washington.
The display consists of an antenna, a 500-micron by 500-micron silicon power harvesting and radio integrated circuit, metal interconnects, insulation layers and a 750-micron by 750-micron transparent sapphire chip containing a light emitting diode with peak emission at a wavelength of 475nm, all integrated onto a contact lens.
The display was powered up wirelessly at distances up to a meter and tested on live anesthetized rabbits with no observed adverse effect.
"This is the first time we have been able to wirelessly power and control the display in a live eye," said Babak Parviz, a University of Washington associate professor of electrical engineering. Among his co-authors are Brian Otis, associate professor of electrical engineering, and Andrew Lingley, a graduate student.
The latest move, published Nov. 22 in the Journal of Micromechanics and Microengineering, is part of a seven-year research effort by Parviz and others
Otis called this successful wireless transmission to a lens "an extremely exciting project … that presents huge opportunities for health-care platforms." The team is working on a way to continuously monitor a glucose levels in diabetic patients using contact lenses.
The University of Washington researchers collaborated with a group at Aalto University in Finland. Other authors from the University of Washington are Yudo Liao and Ramin Mirjalili, both former graduate students, and Tueng Shen, an associate professor of both ophthalmology and bioengineering.
Related links and articles:
Journal of Micromechanics and Microengineering article
IHS medical and healthcare IT research
News articles:
Intel In Cool Google Glass Will Deserve Kudos
Researchers Prep Green Electronic Circuits