Researchers from Tohoku University created a smart contact lens that can prevent dry eye. The self-moisturizing system maintains a layer of fluid between the contact lens and the eye using a novel mechanism.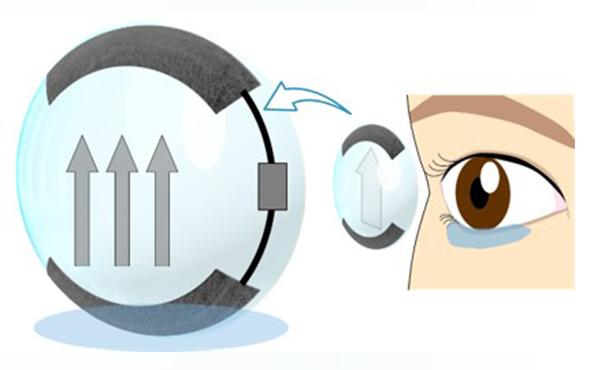 Illustration of a self-moisturizing soft contact lens that supplies tears via electro-osmotic flow from the temporary tear reservoir behind the lower eyelid. Source: Tohoku University
Smart contact lenses could improve vision beyond natural human ability one day. There are many smart lenses being developed for many applications. While there have been many developments in contact lenses that can improve vision, there has been less focus on developments that fixing current issues with contacts. One of commonly reported issue is dry eye syndrome. Dry eye syndrome is caused by reduced blinking and increased moisture evaporation. It can lead to corneal wounds, inflammation and general discomfort.
The team set out to solve this issue. They created a mechanism that keeps lenses moist using electro-osmotic flow (EOF). EOF causes a liquid to flow when a voltage is applied across a charged surface. For the contact lens, a current is applied to a hydrogel and fluid to flows upwards from the user's temporary tea reservoir behind the lower eyelid to the surface of the eye.
The team also explored using a wireless power supply for the contact lens. They tested two kinds of batteries: magnesium-oxygen batteries and enzymatic fructose-oxygen fuel cells. Both batteries are known to be safe and non-toxic. They found that both batteries can power the system and can be mounted directly on the contact lens.
Further research is needed to develop these tougher lenses that can operate at smaller currents.
A paper on the moisturizing contact lenses was published in Advanced Materials Technologies.