Lime Microsystems Ltd. (Guildford, England), a developer of multiband multistandard RF transceiver ICs, has announced it can supply a second-generation of its programmable RF dual transceiver and has instituted an "aggressive pricing strategy."
The LMS7002M contains dual transceivers that cover the frequency range from 100kHz to 3.8GHz thereby covering all the cellular bands used by 2G, 3G and 4G networks as well as many license-free and military bands.
The dual transceivers are suitable for implementing MIMO systems with a digital bandwidth up to 60MHz in each channel and the chip includes a DSP section that can equalize the gain and phase of a MIMO system, or enhance the analog filtering to provide lower power consumption.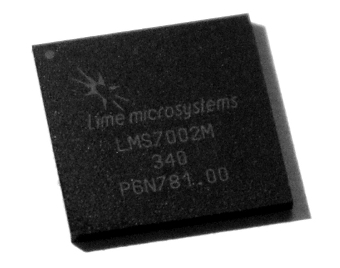 The LMS7002Mis implemented in 65nm CMOS and consumes 550mW in single-in single-out (SISO) mode or 800mW when configured for MIMO operation. The device can operate using a single 1.8-volt supply rail. Parameters such as gain and filter bandwidth are in-system programmable and the chip comes with a Universal Wireless Communications Toolkit (UWCT) and will be supplemented with development boards.
"We have enormous interest from applications spanning small cells, software defined radio (SDR), industrial networking, medical, test equipment and high end M2M such as asset tracking. We believe that our pricing strategy will stimulate a range of new applications in variety of markets including commercial and military customers," said Lime CEO Ebrahim Bushehri, in a statement.
The LMS7002M is priced at $110 in sample quantities, and $63 per chip for quantities of 5,000 units. Lime simultaneously announced that it is significantly reducing the price of the first-generation part, LMS6002D, with samples starting at $35, and $15 each for quantities of 5,000 units.
Customers can download free design software, a range of development boards, projects directly from Lime's website and from an open-source initiative called MyriadRF.
Related links and articles:
IHS semiconductor value chain research
News articles:
LTE Chipsets and the Growing Demand For Higher Data Speeds
Qualcomm, Quantenna Roll Out Multi-User MIMO