Processor IP licensor Imagination Technologies Group plc (Kings Langley, England) has announced an architectural variant of its Ensigma Series 4 radio processing unit (RPU) called Whisper that is aimed at providing connectivity for the wireless sensor nodes in the Internet of Things and for wearables and other low power applications.
It is Imagination's second announcement aimed at the wearables and IoT in recent weeks (see Imagination Cuts GPU Down For Wearables) as it is tries to move quickly in addressing the IoT market and get ahead of its rival ARM Holdings plc (Cambridge, England) and others.
Like the PowerVR GX5300 GPU, the Ensigma Whisper demonstrates a stripped down approach but Whisper is described as an architecture and company executives said specific implementations would be disclosed when Imagination rolls out a family of Ensigma Whisper cores in 4Q14.
The main distinction from the established Ensigma Series 4 Explorer RPUs is that whereas those are optimized to be able to move multimedia streams Whisper is being optimized for smaller payloads, reduced transistor count and ultra-low power consumption. This will include wireless sensor nodes and mobile phone peripherals that are normally off but must wake up periodically to transmit and receive data.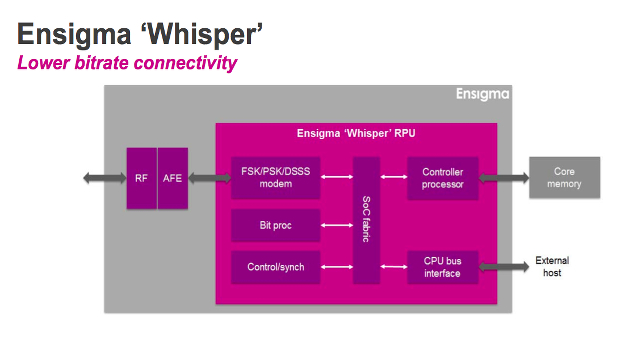 Ensigma Whisper RPUs will include MIPS as the controller processor.
Another distinction is that while Ensigma cores to date have included Imagination's multithreaded processor Meta as a controller the Whisper range will replace Meta with one or more MIPS processor cores. "Ensigma Explorer is an efficient SDR [software-defined radio] where as for Whisper the PHY [physical layer circuit] is more about configurable hardware and the MAC [media access control] has been moved to the MIPS," said Richard Edgar, director of communications technology marketing at Imagination.
However, Whisper retains the Ensigma principle that one design should support multiple radio standards including Wi-Fi, Bluetooth Classic, Bluetooth Smart, NFC, and satellite navigation GNSS. Although not mentioned explicitly Whisper will also be able to implement ZigBee and 6LoWPAN. "Whisper can support anything based on IEEE 802.15.4," said Edgar.
In a statement Tony King-Smith, Imagination's executive vice president of marketing, made the point that many devices being used for IoT today are repurposed from mobile and embedded applications and therefore don't fully address the extreme low power and cost requirements that this market will demand. The implication is that Ensigma Whisper does address this but – Imagination was not able to share any benchmarking data or provide meaningful comparison against competitor devices or its own Explorer range.
Because this is an architectural, rather than an implementation announcement there isn't any benchmarking data to share, Edgar said.
Evolution not revolution
What is clear is that while Whisper, will be a stripped-down and power-optimized evolution of the Ensigma range it will not be a radical change or an architecture that requires or other radical design techniques such as near-threshold voltage operation.
Many of the choices that will determine the power consumption such as the clock frequency, operational voltage, and the use of non-volatile memory, will depend on implementation, Edgar said. "Some are beyond our control, some will depend on the manufacturing node selected," said Edgar. Whisper cores are expected to be implemented in manufacturing processes from about 65nm down to 45nm, said Chakra Parvathaneni, senior director of business development for Ensigma. "The sweet spot we see is around 65nm, 55nm and 45nm. With 40nm coming two or three years down the road," Parvathaneni said.
Whisper will support something called PowerGearing that Imagination said optimizes both static and dynamic power consumption in the cores. The tightly coupled modem and MIPS control processor within Whisper will also eliminate the need for a host processor for some applications including "headless" applications that have no user interface or graphics and therefore don't need a host processor.
Finally Imagination said that despite the fact that Explorer and Whisper will have different control processors – Meta and MIPS, respectively – they would have a common API so that customers could reuse software across the platforms.
Related links and articles:
IHS Technology Semiconductor & Components Page
News articles:
Imagination Cuts GPU Down For Wearables
Google Launches Smart Home IoT Protocol
Ceva Expands Wireless IP With RivieraWaves Buy
Indian Startup Tips Wearable Processor Family