ARM Holdings plc (Cambridge, England) has announced a 32-bit Cortex-M processor core to sit at the top of its microcontroller class family of cores. With double the DSP resources of the Cortex-M4, the Cortex-M7 should be able to cater for more demanding embedded applications as well as allowing smarter peripherals that can operate more independently and reduce the amount of data sent over wireless connections.
The core has been developed to target embedded applications used in vehicles, connected devices, smart homes and factories. Early licensees of the Cortex-M7 processor include Atmel, Freescale and STMicroelectronics who are expected to offer the Cortex-M7 in microcontrollers in 2015.
The core has a six-stage superscalar ALU with branch prediction and supports single cycle dual 16bit multiply accumulate (MAC) operations as well as 8- and 16bit SIMD operations. The floating-point unit supports single and double precision IEEE754-compliant maths. It can achieve 400MHz clock frequency in a 40nm manufacturing process. The AXI interconnect supports 64-bit transfers and there are fully integrated optional caches for instruction and data of up to 64kbytes each in size.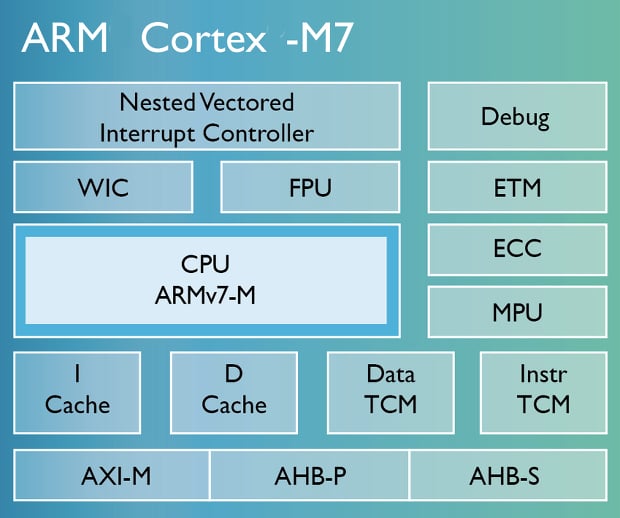 Up to 240 different wake-up interrupts are supported by the Cortex-M7 core. Source: ARM.
The performance level of the Cortex-M7 and the ability to handle two instructions per cycle should make it better at performing math intensive operations for motor control in robots, for analyzing video, audio and other sensor data. Cortex-M7 microcontrollers are expected to find use in automotive, industrial and smart home applications, ARM said.
"The versatility and new memory features of the Cortex-M7 enable more powerful, smarter and reliable microcontrollers that can be used across a multitude of embedded applications," said Noel Hurley, general manager of the CPU group at ARM, in a statement.
Software compatibility enables migration of code from any existing Cortex-M core to the Cortex-M7, although that code might benefit from recompilation to make use of extra resouces it offers.
"We see the ARM Cortex-M7 addressing high-growth markets like IoT and wearables, as well as automotive and industrial applications that can leverage its performance and power efficiency," said Reza Kazerounian, general manager of the microcontroller business unit at Atmel, in the same statement. Geoff Lees, general manager of the MCU group within Freescale made the point that the doubled performance of the Cortex-M7 would allow ellimination of additional DSP chips and microcontrollers in some applications.
Related links and articles:
News articles:
Cadence CTO Rowen Forecasts Processor Design Split
Imagination Inserts MIPS into Ensigma Radio for IoT
Startup Preps Neural Network Visual Processor for Mobiles