Intellectual property licensor ARM continues to make progress on the near-threshold voltage operation of processor cores in research but it will be down tp ARM licensees to implement Cortex-M0 cores for such low voltage operation, according to Mike Muller, chief technology officer, of ARM Holdings plc.
Muller was speaking in a "Google Hangout" interview with Anand Lal Shimpi, the founder of a computing and consumer electronics review website called Anandtech, when he said that no new processor core would be required for near-threshold voltage operation.
ARM (Cambridge, England) is a licensor of processor cores for mobile phones, tablet computers and embedded applications. But the Internet of Things is widely expected to require an order of magnitude or more improvement in the energy efficiency although many of the computational work loads may be relatively light and demand infrequent. Reducing the voltage to close to, or even below the threshold voltage where transistors turn on and significant current flows is one way to achieve that ultra low power.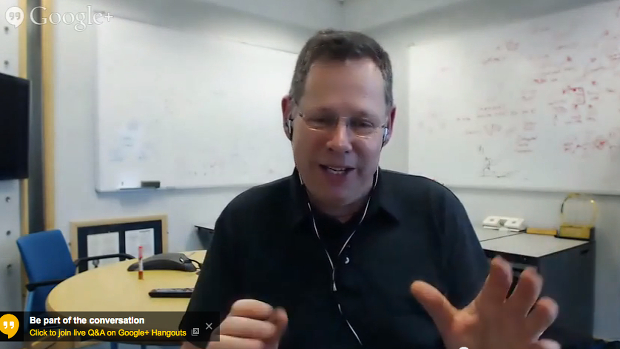 Mike Muller has a good day at the office. Source: YouTube video of Google Hangout.
One draw back is that clock frequencies must also be significantly reduced although theoretically sub- or near-threshold is more energy-efficient place to operate. A second drawback is that foundries do not yet specify their manufacturing processes for near- or sub-threshold operation. But that point is getting closer as ARM continues with characterization work.
"We do work in my research group on near-threshold and we continue to do that," said Muller. "We've made some very interesting chips. You can work out where the right trade-offs are. We've learned a little bit about how the world splits into the ultimate efficiency [at sub threshold] and practical efficiency [at near threshold]. If you are prepared to be near threshold then its actually much more deployable."
Muller made the point that a new microarchitecture was not required to make use of near-threshold voltage operation and that the Cortex-M0, the simplest of the ARM processor cores available for license is a suitable candidate.
"A lot of it is about implementation; not about microarchitecture. It's about building memories and standard cells that scale, have the right leakage properties, about putting in place all the headers and footers, power switches and PLLs that will work across the spectrum. That's stuff we do as research to enable the world. Since we don't actually ship anything it's down to our partners who go and build those low-energy microcontrollers in the near-threshold world to actually deploy it," said Muller.
"We do it make sure we have solutions that can be built but it is down to our partners to actually go take that to market. And it's not a brand new microcontroller. It's a Cortex-M0 that you go build for a near-threshold voltage implementation. You don't need to go back and tear up M0 and start again," Muller concluded.
Elsewhere in the interview Muller was asked about likely consequences for ARM and the industry from the end of Moore's Law and the introduction of novel memory technologies, and also about whether ARM would ever succeed in the personal computing sector.
Moore's Law and memory
With regard to semiconductor progress and Moore's Law Muller expressed confidence that scientists and engineers would bring forward novel manufacturing techniques to go below 10nm but said that even if progress in miniaturization stopped there is plenty of scope for innovation in software and in circuit design. But he did argue that the cost of that manufacturing progress was worrying.
"It used to be that 100,000 units justified doing your own IC. Now you need to be doing millions. It changes the cost of entry," Muller said. "I think you can do a lot of innovation in a flat world. It just so happens that the transistor roadmap makes our lives easier," he said.
On memory Muller said: "We've been waiting for the next-generation memory for a long time and when it arrives the promise is it solves all problems of the universe except world hunger?" Muller said it was more likely that multiple next-generation memories would be introduced seeking to provide superior optimizations for performance spaces currently occupied by flash and DRAM. There is a memory hierarchy that can be addressed by a diversity of memories, but success depends on cost and economies of scale as well as on technical solutions.
ARM in the supercomputer?
With regard to ARM progress at the high-performance end of the computing spectrum Muller emphasized that his company was only at the start of its journey. "It's about volume from the growth markets. It's already fragmented It's servers; it's storage; it's networking."
"It's not going to be serious volumes for ARM in the way it is for smartphones. It's a 100 million [annual units] market not a 100 billion market." It will grow steadily over the next five years, he said. One market that could be a exception to the "slow burn" is at the extreme supercomputing end of the market "I could see that going "click" and in the next-generation there's a whole bunch of ARM machines built," said Muller.
Muller said that ARM was focused on the high-performance end of the computing spectrum and on the mobile and low power end. He described the personal computing domain – which has been dominated by Intel – as being the "little piece" in the middle served by legacy architectures. "I don't say we don't play there. We are playing there. But we are coming at it from a mobile form factor point of view."
The interview was recorded and posted as a YouTube video.
Related links and articles:
www.youtube.com/watch?v=nRDIrOjRuVg#t=2559
News articles:
Startup Claims Wireless Chip Cuts Power 1000-Fold
Freescale to Foundries: Help Us With Threshold-Voltage MCUs